Jussie Smollett's lawyers ask for more time to file brief appealing hate crime conviction
CHICAGO - For the fifth time, Jussie Smollett's attorneys are asking for more time to file a brief with the state appellate court that is reviewing the former actor's conviction last year for faking a hate crime.
Smollett's attorneys had previously said their arguments in the actor's appeal would be submitted to the three-judge panel of the First District Court of Appeals by Wednesday. Instead, they asked for a fifth extension.
The attorneys said their brief is ready for the judges' review, but they are still waiting on a ruling from the court over whether they can submit a longer filing than is typically allowed.
Smollett "is well aware that this court does not favor appellant briefs in excess of 50 pages. However, the circumstances surrounding this case firmly necessitate a brief in excess of 50 pages," the motion states.
Last week, Smollett's attorneys asked the court to allow an 80-page brief, which they argued was necessary because their appeal involves not only the case that Smollett was convicted on, but also a previous case that was brought against the actor after the 2019 hoax first came to light.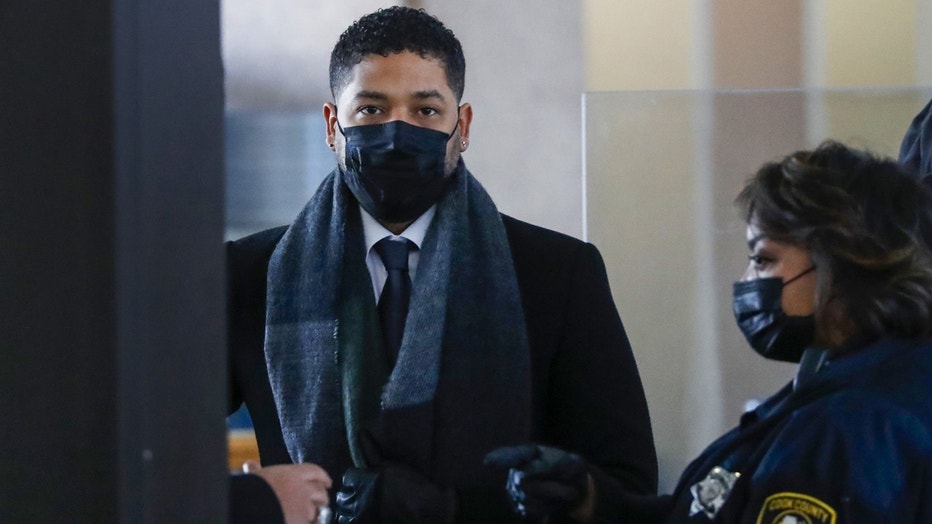 Actor Jussie Smollett arrives with his family to the Leighton Criminal Courthouse in Chicago, Illinois on Dec. 7, 2021. (Jose M. Osorio/Chicago Tribune/Tribune News Service via Getty Images)
Smollett was first indicted in 2019, but in a stunning reversal, State's Attorney Kim Foxx's office dropped all charges against Smollett in consideration of community service and his agreement to turn over the $10,000 he had posted for bond to the city of Chicago. The deal did not require him to admit any wrongdoing.
Months later, Special Prosecutor Dan Webb was appointed by a Cook County judge to review the state's attorney's office's decision, which led to Smollett being indicted again on new charges the following year.
Following an eight-day trial in December 2021, a jury convicted Smollett of five counts of disorderly conduct. Judge James Linn sentenced the former actor to five months in jail. The sentencing hearing last March ended with the actor yelling that he was not suicidal before being led from the courtroom by sheriff's deputies.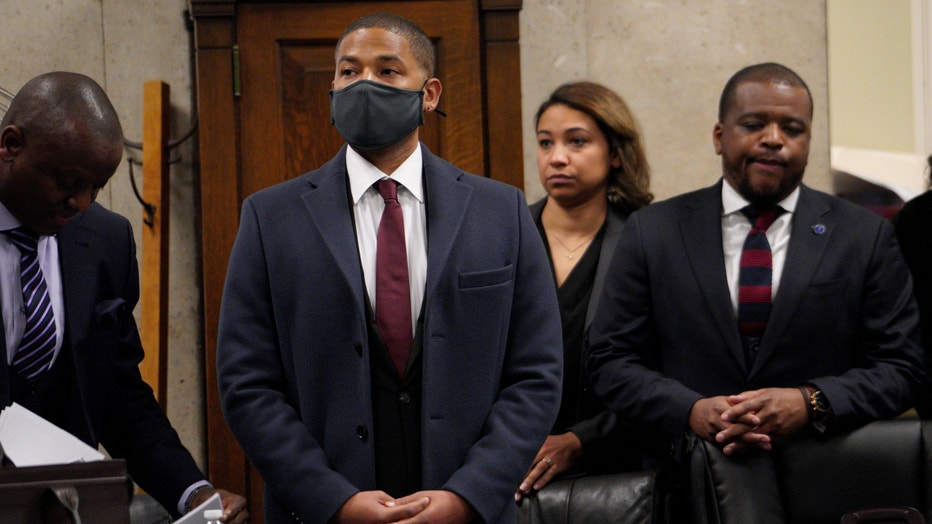 CHICAGO, ILLINOIS - MARCH 10: Actor Jussie Smollett appears at his sentencing hearing at the Leighton Criminal Court Building on March 10, 2022 in Chicago, Illinois. Smollett was found guilty last year of lying to police about a hate crime after he r
Smollett only served six days in the Cook County Jail before he was released on his on recognizance pending appeal. He will be required to go back and serve the rest of his time if his conviction is not overturned.
Smollett's lawyers say the charges bought by Webb amounted to double jeopardy. They have also objected to multiple rulings made by Judge Linn before and during the actor's trial.
Attorneys for the special prosecutor's office have opposed the filing an oversized brief in the case, noting Smollett's appeal deals only with the case that led to his conviction, not earlier cases.
SUBSCRIBE TO FOX 32 ON YOUTUBE
"Mr. Smollett advances his uncreditable request by once again mischaracterizing the scope of his pending appeal by making extensive reference to cases, orders and supposed 'constitutional' issues that are not before this court," the special prosecutor's office responded.
As of Thursday, the judges have not issued a ruling on either Smollett's request to file the oversized brief or his request for more time.