Lightfoot's 'No. 1 cheerleader' in City Council re-thinking support over mayor's 'coldness'
CHICAGO - Ald. Derrick Curtis (18th) said Tuesday he's having second thoughts about his support for Mayor Lori Lightfoot — and his role as her "No. 1 cheerleader" — because of the mayor's "coldness," including her failure to reach out to him after he accidentally shot himself.
A former Chicago Housing Authority police officer, Curtis suffered a gunshot wound to his wrist last fall while cleaning a gun in the 8200 block of South Christiana.
He said the accident that required him to undergo minor hand surgery happened while he was helping a neighbor with a firearm that had been "malfunctioning at the gun range."
What angers Curtis — and now has him thinking twice about supporting Lightfoot — is the mayor's failure to reach out to him after the accidental shooting and her failure to call him more recently when he was hospitalized for a blood count that was, as he put it, "super low."
"If we were in a relationship, she should have contacted me. I deserved some type of call or conversation just to see how I was doing. Just checking in on me. That's what friends do," Curtis said.
"I felt myself being a very, very close friend and ally to her. I really was a No. 1 cheerleader. But, she never called when I shot myself … I wouldn't treat my friends that way."
The Lightfoot campaign had no immediate comment.
After the Sun-Times reached out to the mayor's campaign about the alderperson's remarks, a worried Curtis sent the Sun-Times a text message that read, "I'm hearing that you're running the story that I'm pulling away from the mayor. I said we needed to talk."
Last summer, the Chicago Board of Ethics slapped Curtis with a $1,000 fine for using his official city email account to advertise an event that launched Lightfoot's reelection campaign.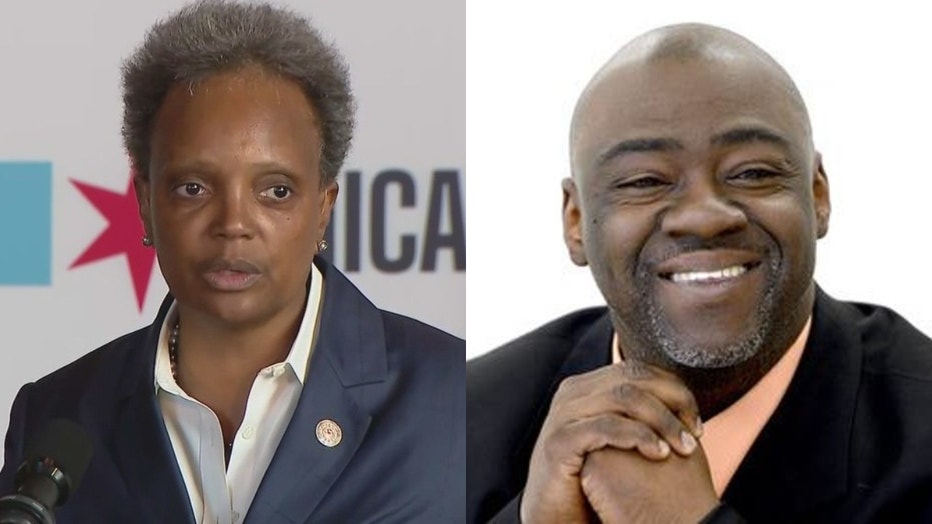 The fine stemmed from a June 2 email that Curtis wrote inviting his constituents to the mayor's reelection kickoff at Starlight Restaurant on June 8. About 100 residents were urged to reserve a spot at the "supporter" breakfast by contacting Curtis' ward office.
After a citizen complaint, that board determined there was probable cause to conclude that Curtis had violated the city's ethics ordinance by including "campaign-related content in official ward newsletter emails from a cityofchicago.org email address, contrary to clear board guidance on the improper mixing of political and official content.
Curtis has insisted that the invitation was sent from his personal email account. He said he closed his ward office for a few hours on the morning of Lightfoot's announcement so his staff would be free to attend. Many members of Curtis' staff did just that, wearing T-shirts with the 18th Ward logo.
On Tuesday, Curtis complained that ever since the campaign launch and the ethics investigation that it triggered, Lightfoot has neither reached out to him nor returned his calls and text messages.
"Maybe she's just too busy. Maybe it's me and I'm stuck in my own feelings. But, I wouldn't treat my friends that way," he said.
"I tried to talk to her about a lot of things. Maybe that's what we need to do: sit down and talk if she's up to it. But, the way I feel, I don't want to reach out. I want her to reach out. I'm not chasing her anymore."
Given the loyalty he has shown to the mayor, Curtis said he probably deserved a committee chairmanship. Instead, Lightfoot has yet to fill three chairmanships vacated by alderpersons who have already departed: Ethics, Education and Environmental Protection and Energy.
"I'm probably as loyal to her as other chairman who have turned their backs on her," he said.
Curtis is one of roughly a half-dozen African-American alderpersons who are supporting Lightfoot's reelection bid in a nine-member field that includes seven Black candidates.
Black Caucus Chair Jason Ervin (28th), one of Lightfoot's staunchest supporters, has warned that, with seven Black candidates and a divided and diminished African-American vote, the Black community risks "losing it all."
If the deep freeze between Lightfoot and Curtis continues, Curtis said he's inclined to sit out Round One of the mayoral sweepstakes and see who makes it to the runoff.
"She's not polling well at all," he said.
Curtis acknowledged that Lightfoot was dealt a bad hand with a first term dominated by the pandemic, civil unrest.
But, he said, "I wouldn't have argued in front of the public with other members of the City Council. … Sometimes, you can be pushed. I saw people push. But, you should be able to control that."