Madigan re-elected Illinois speaker, nears US tenure record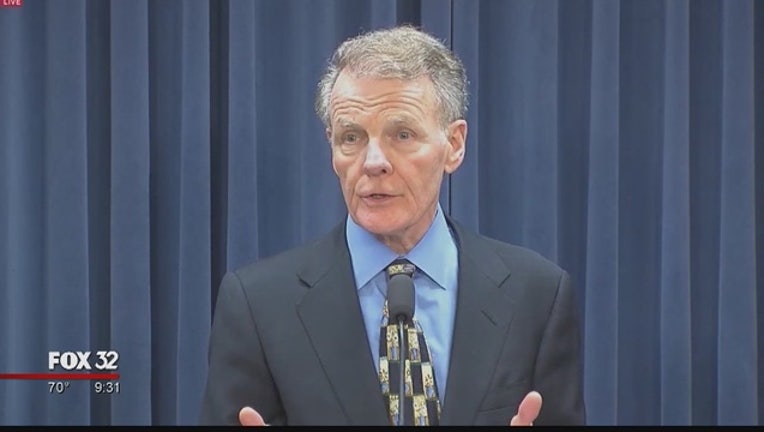 article
SPRINGFIELD, Ill. (AP) - The Illinois House re-elected Michael Madigan on Wednesday to a 17th term as its leader, putting him on track to soon become the longest-serving statehouse speaker in modern U.S. history, and he pledged to help find a solution to the state's ongoing budget stalemate.
For two years the Democratic-controlled Legislature has failed to secure a budget deal with Republican Gov. Bruce Rauner, easily the top priority for the 100th General Assembly.
In one possible sign of an olive branch to Rauner, the Senate voted unanimously to limit leaders' tenure to 10 years - the first time the chamber has ever taken that step.
One House Democrat took the rare step of not voting for Madigan, instead voting present, as a sign of his constituents' exasperation with the deadlock in Springfield that many blame on the speaker.
The steely Democratic speaker has held the gavel for 32 of the past 34 years. If he completes the new two-year term, he will eclipse a modern-day record set in the middle of the last century by a South Carolina Democrat.
After his re-election, Madigan suggested it would be possible to get Illinois out of its mess by bolstering the economy without hurting the middle class.
The term limits were imposed by Senate rule and don't apply to the House. But it's one area of agreement between Democratic Senate President John Cullerton - elected to a fifth term as president - and Republican Leader Christine Radogno they hope helps break the impasse with Rauner. For nearly two years, the first-term governor has insisted on business- and political-climate changes - including term limits - be part of a budget agreement that likely will include an income tax increase to whack away at billions of dollars in debt.
Radogno promised that term limits will be the substance of a future constitutional amendment which would go to voters and, if approved, apply to both House and Senate.
The move came before the pair of cooperating opponents reintroduced a package of legislation they negotiated in recent weeks to push long-stalled budget talks forward. Cullerton and Radogno, who were unsuccessful in implementing the changes during the previous session, pledged to get Senate approval by the end of January. The measures include an income tax increase, a hike in the minimum wage and corporate tax loophole closings, but also demands from Rauner's agenda, including a property tax freeze and rules to reduce the cost workers' compensation.
"The state needs a budget. Period," Cullerton, 68, said after his re-election to a packed chamber that included Rauner. "This has become nearly as ridiculous as it is frustrating."
Cullerton and Radogno explained they didn't involve the House or Rauner in their recent talks because they wanted to see if they could first agree to something themselves. And it provides an opportunity for the Senate to step out of the shadow cast by the power and longevity of Madigan, disparaged as a "career politician" by Rauner, who often holds him up to symbolize the entire Legislature.
The 74-year-old Madigan, a member of the Illinois House since 1971, was elected speaker in 1983, lost it from 1995 to 1997, but retook it. According to the Illinois Campaign for Political Reform, Democrat Solomon Blatt of South Carolina served 33 years - from 1937 to 1946 and again from 1951 to 1973. Madigan would eclipse Blatt's tenure early next year.
Republicans urged Democrats to choose someone else as speaker, but only one Democrat - Rep. Scott Drury of Highwood - refused to back him. He voted "present," and Madigan was elected 66-51.
Drury issued an unusual statement explaining his vote by likening it to the traveler in Frost's "The Road Not Taken."
"Frost's traveler said (taking) the road less traveled 'made all the difference,'" Drury said. "He was silent on whether taking it was easy. I will let you know."
___
Associated Press writer Sophia Tareen contributed from Chicago.
___
Contact John O'Connor at https://twitter.com/apoconnor . His work can be found at http://bigstory.ap.org/content/john-oconnor . Contact Kiannah Sepeda-Miller at https://twitter.com/kiannahsepeda .