Man charged with DUI after head-on crash with tree in Riverside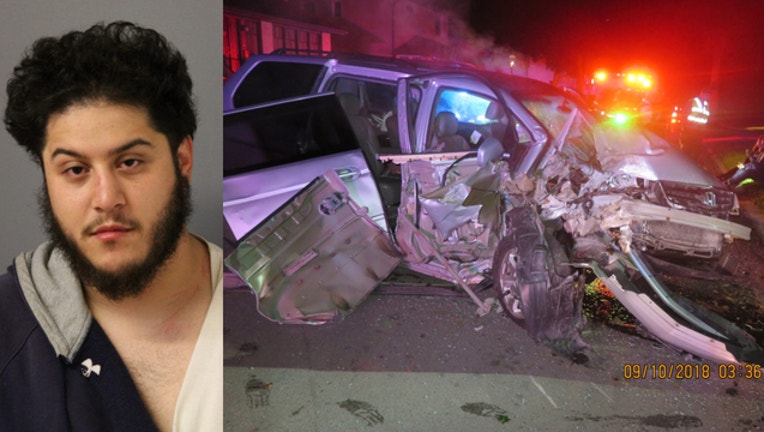 article
SUN TIMES MEDIA WIRE - A man is facing DUI charges after he allegedly slammed a van head-on into a tree early Monday in west suburban Riverside.
Police were called for reports of the crash at 3:18 a.m. in the 200 block of East Quincy Street in Riverside, according to a statement from Riverside Police Chief Tom Weitzel. They arrived to find a 2003 Honda van against a tree and "two males stumbling in the area of the crash."
The driver, 23-year-old Michael Santiago, had "heavily slurred speech, bloodshot eyes and a strong odor of alcohol emanating from his mouth" when he spoke to officers, according to Weitzel. He allegedly told police he'd been driving eastbound on Quincy to take his passenger home when "the airbags deployed on their own."
"Even when the officers showed him the heavy damage to the tree and his vehicle he denied that he was even involved in a crash, showing extreme signs of alcohol overdose," Weitzel said.
Santiago and his passenger, a 25-year-old Berwyn man, were both taken to MacNeal Hospital in Berwyn for evaluation, police said. Officers accompanied them to the hospital to perform sobriety and DUI testing.
Santiago told investigators he had been drinking beer and ingested lorazepam before driving, according to Weitzel. Police sent blood and urine samples to the Illinois State Police Crime Lab for testing.
After he was released from the hospital about 5 a.m., Santiago was taken into custody and charged with driving under the influence of alcohol, driving under the influence of drugs, driving with a suspended license, improper lane usage, failure to reduce speed to avoid an accident and damage to public property, police said.
Weitzel said his suspended license "was not based on any prior DUI."