Man charged with robbing woman of purse at gunpoint outside Jewel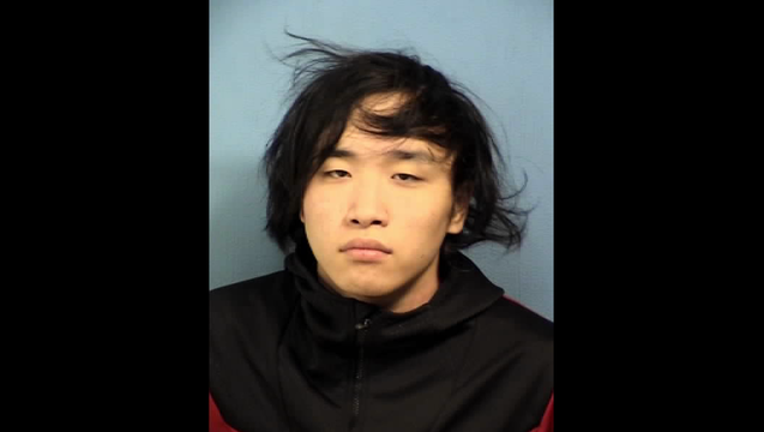 SUN-TIMES MEDIA WIRE - A west suburban man has been charged with robbing a woman of her purse at gunpoint, then knocking her down as she loaded groceries into her car, a crime that prosecutors called "extremely disturbing."
Bond was set at $100,000 Friday for 20-year-old Enkhbold Naidandavaa of Bellwood, who is charged with felony counts of aggravated robbery and aggravated battery, according to the DuPage County state's attorney's office.
Naidandavaa was wearing a ski mask and dark clothing when he approached the woman from behind about 8:30 p.m. Thursday in the parking lot of the Jewel store in Clarendon Hills, a statement from prosecutors said.
She placing groceries in her vehicle when he "snatched the woman's purse, pulled a gun on the woman and then pushed her to the ground," prosecutors said.
Naidandavaa fled the scene. He was apprehended by officers with the Willowbrook Police Department four blocks from the store approximately ten minutes later and taken into custody without incident.
After stealing the purse, Naidandavaa ran away, but was captured about four blocks away by Willowbrook police officers just 10 minutes after the robbery, prosecutors said. He was still carrying the gun, which turned out to be an Airsoft replica pistol.
Naidandavaa, of the 3600 block of St. Paul Avenue in Bellwood, appeared in court Friday and was ordered held on $100,000 by Judge Richard Russo.
"The allegations against Mr. Naidandavaa are extremely disturbing," state's attorney Robert Berlin said in the statement. "This type of outrageous conduct will not be tolerated in DuPage County and will be met with the full force of the law."
Clarendon Hills Police Chief Boyd Farmer said the quick arrest was a result of the quick response of Clarendon Hills officers, and a coordinated efforts between Willowbrook, Hinsdale, Westmont and Clarendon Hills police.
Naidandavaa's next court date is Jan. 17 in Wheaton before Judge Liam Brennan.