Man found dead two days after Washington Park fire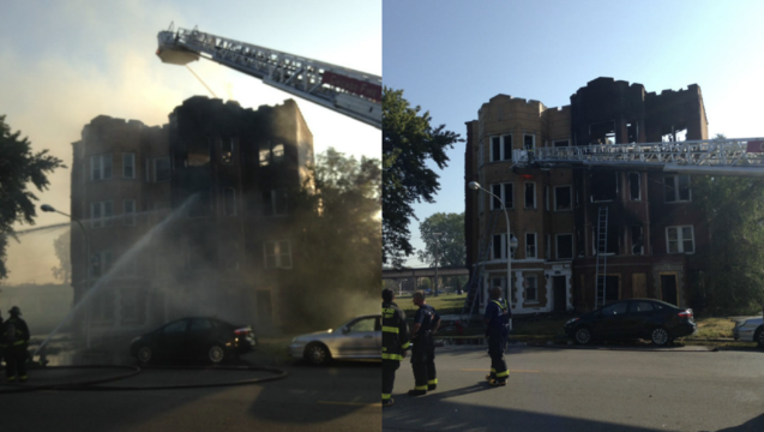 article
CHICAGO (Sun-Times Media Wire) - A man was found dead two days after an extra-alarm fire Saturday morning in the South Side Washington Park neighborhood.
The fire was first reported at 6:45 a.m. Saturday in a building in the 5800 block of South Prairie, according to Chicago Fire Department Cmdr. Walter Schroeder. It was upgraded to a second alarm at 7:01 a.m.
The fire caused extensive damage to one building and also spread to an adjacent building, Schroeder said. It took more than four hours for crews to completely extinguish the fires.
The fire department was aware that one man who stayed in the building had not been seen since the blaze, Fire Media Affairs Director Larry Langford said Tuesday morning.
A meeting had been scheduled for noon Monday between the insurance company, the city's Department of Buildings, and the building owner to decide what to do about the structure.
However, about 7:30 a.m. Monday, the fire rekindled and the body of a man in his 40s was discovered in the rear of the second floor, Langford said. The area was inaccessible during previous searches, and firefighters had to shore up the building and break through a wall to reach the victim.
He was discovered underneath material, including a buckled door, Langford said.
The man remained unidentified as of Tuesday morning, according to the Cook County medical examiner's office. An autopsy Tuesday did not rule on his cause and manner of death pending further investigation.
Five adults and three families were displaced from their homes, according to Red Cross spokeswoman Carolyn Moretti.
According to Mimi Simon, spokeswoman for the Department of Buildings, it wasn't the first fire to erupt in the vacant building this summer. It also went up in flames in late August, and is will most likely be slated for demolition.
Simon said that after the second fire, "the damage is extensive and we are bidding it out as a demolition."
City inspectors routinely check properties after a fire to determine if it can be saved.  Simon said that after inspection, "It appears that we are moving forward with an emergency demolition."
The Red Cross and Illinois Department of Human Services supplied food and shelter to the displaced residents after the fire.
The Red Cross will also provide the individuals and families with ongoing shelter "until they are able to move somewhere else or back into their homes," Moretti said.
Langford said the cause of the fire should be known later Tuesday. The Chicago Police Bomb and Arson Unit is assisting the fire department with the investigation.