Man reportedly eats strawberry with needle inside, police confirm 4 'contamination' incidents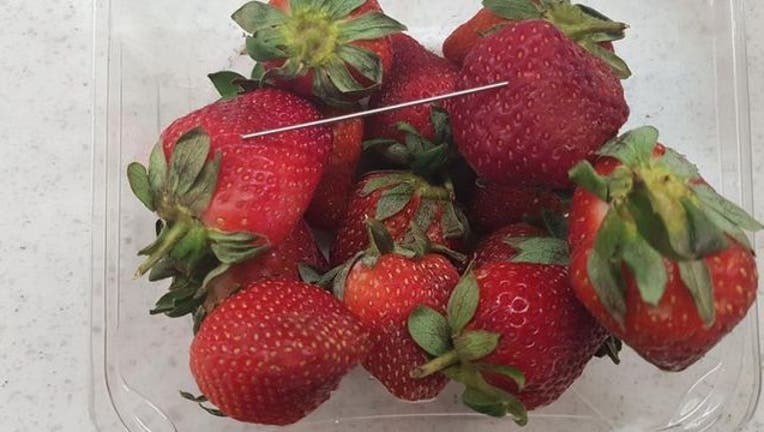 article
FOX NEWS - Authorities in Australia on Thursday said they had four confirmed incidents of "contaminated strawberries" after an individual reportedly discovered a needle inside a berry after taking a bite.
Queensland Police Service, who have launched an investigation into the potentially hazardous findings, revealed that affected brands include "Berry Obsession" and "Berry Licious," according to an update on the agency's Facebook account.
The confirmed cases happened in Queensland and Victoria, police said, adding that the brands are sold at locations in Queensland, New South Wales, Victoria and the Australian Capital Territory.
"Police have liaised with retailers to ensure that all stock is removed from sale," police said. "The contamination relates to what appears to be needles inserted in strawberries."
An update on the investigation was released amid what authorities said was thought to be a "copycat incident" and provided a photo in relation to it.
"The suspected copycat incident, reported at a supermarket in Gatton, involves the discovery of a thin metal object in a punnet of strawberries," police said.
Police began looking into the potentially dangerous berries after a Facebook user on Saturday wrote that their friend took a bite of a strawberry and ate "half a sewing needle," according to the Palm Beach Post. The individual ultimately received medical care, the Facebook post said.
Amid the contamination, the Queensland Strawberry Growers Association on Wednesday said they suspected that the culprit was possibly a "disgruntled" former employee.
In a follow-up statement released on Facebook Thursday, the group said the strawberries were seemingly "interfered with between the time they were packed and the time they were purchased."
"Retailers have ensured that all stock at risk has been removed from sale," the Facebook post said. "Regretfully, preventing random acts of extremism, sabotage and simple maliciousness from people with a grudge appears to be an increasing challenge across our society."
People in possession of the brands in question should refrain from using them and strawberries from other companies "should be cut up" for safe measure, police said in the update, quoting Queensland's Chief Health Officer Dr. Jeannette Young.
"For other brands, our advice is all strawberries should be cut up before they are eaten," Young said. "Strawberries are a great fruit, and people should continue to buy them, but everyone should simply cut them up."