Lightfoot to Texas Governor: 'Stop the inhumane, dangerous bussing of migrants to Chicago'
CHICAGO - Outgoing Mayor Lori Lightfoot sent a letter to Texas Gov. Greg Abbott on Sunday urging him to stop bussing migrants to Chicago, saying the immigration problem is a national crisis that can't be pushed from city to city.
Abbott started sending migrant buses to Chicago and other sanctuary cities, including New York City and Washington, D.C., in the fall as a response to the influx of migrant crossings at the southern border. The Republican governor has said the relocations will continue until the federal government secures the border.
Lightfoot, who lost her re-election bid earlier this year, wrote in her letter that Chicago officials learned Texas is planning to resume sending busloads of migrants from Texas to other parts of the country – including Chicago – starting Monday.
Lightfoot said Texas has bussed women in full labor and victims of sexual assault without regard to their immediate needs. Lightfoot urged Abbot to reconsider "this dangerous and inhumane action."
"Nearly all the migrants have been in dire need of food, water, and clothing and many needed extensive medical care," she wrote. "Some of the individuals you placed on buses were women in active labor, and some were victims of sexual assault. None of these urgent needs were addressed in Texas. Instead, these individuals and families were packed onto buses and shipped across the country like freight without regard to their personal circumstances."
Lightfoot said the city has been responsible for the care of more than 8,000 people who had no resources of their own since the first buses arrived from Texas in August – adding that the number continues to grow.
City employees and partner agencies, such as the Salvation Army, have mobilized to provide food, shelter, clothing and medical care, but Lightfoot said Chicago lacks the necessary shelters and other resources to address further migrant relocations to the city.
"Chicago is a Welcoming City and we collaborate with County, State, and community partners to rise to this challenge, but your lack of consideration or coordination in an attempt to cause chaos and score political points has resulted in a critical tipping point in our ability to receive individuals and families in a safe, orderly, and dignified way. We simply have no more shelters, spaces, or resources to accommodate an increase of individuals at this level, with little coordination or care, that does not pose a risk to them or others," Lightfoot wrote.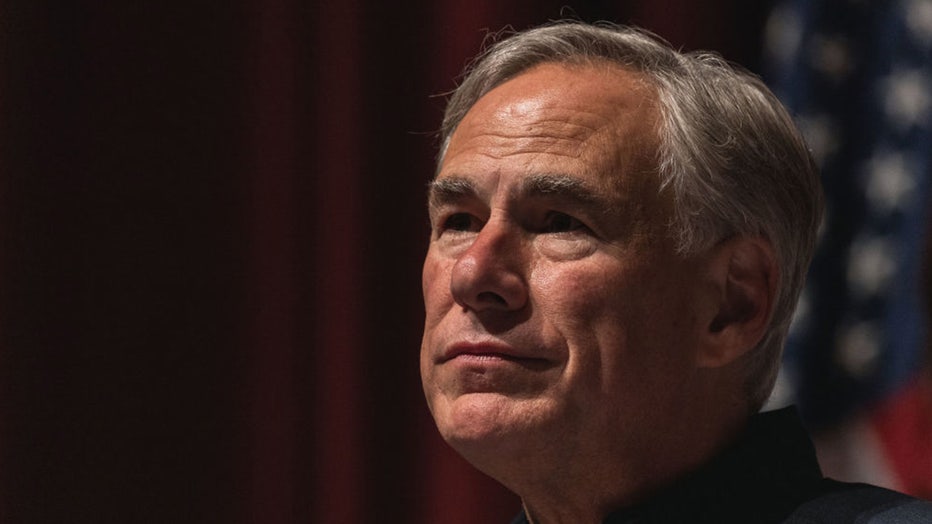 Texas Gov. Greg Abbott speaks during a press conference at Uvalde High School on May 25, 2022 in Uvalde, Texas.  (Jordan Vonderhaar/Getty Images)
"I know by your actions that you either do not see or do not care about the trauma these migrants have already faced and continue to suffer under the humanitarian crisis you have created," she continued. "But I beseech you anyway: treat these individuals with the respect and dignity that they deserve. To tell them to go to Chicago or to inhumanely bus them here is an inviable and misleading choice."
Recently, Chicago has been sheltering immigrants inside police stations because of a lack of space at other facilities.
At a joint City Council committee meeting on Friday, Chicago leaders said the city is currently facing a $53 million shortfall in its attempt to care for the surge in migrants. City officials estimate it will cost $20 million per month to care for migrants. 
In 2023, Chicago has received "zero dollars" from the federal government, budget director Susie Park said.
Lightfoot said she was sympathetic to the challenges of border towns in Texas, but that the issue will not be resolved by passing on the responsibility to other cities.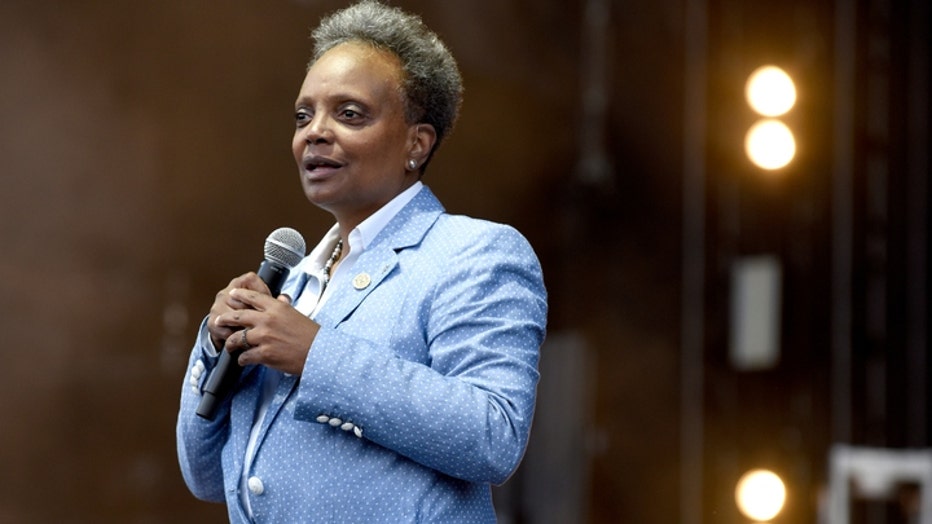 Chicago Mayor Lori Lightfoot also has criticized Texas Gov. Greg Abbott for sending buses of migrants to her city. (Tim Mosenfelder/Getty Images / Getty Images)
She emphasized that she will continue calling on the federal government for more resources and support to address the influx of migrants while also demanding policy changes to the U.S. immigration system.
Lightfoot also told the governor she urged the federal government to withhold all FEMA funding for Texas if buses of migrants continue to be sent to Chicago, but noted that she "would rather work with you than against you."
"Governor Abbott, this is not a state v. state or city v. city problem," she wrote. "The immigration crisis is a national challenge that requires national collaboration. For the good of our country and the individuals who are seeking safety in refuge, let's work together to find a real solution. And that real solution will never be the unilateral bussing of migrants to cities like Chicago."
Lightfoot previously criticized Abbott after the first buses were delivered to Chicago, saying at a press conference in September that the governor was "manufacturing a human crisis."
New York City Mayor Eric Adams has also been vocal about the migrant relocations to cities.
"This is just unfair for local governments to have to take on this national obligation," Adams said in a radio interview in January.
Colorado Gov. Jared Polis, D, has also sent migrants from his state to sanctuary cities in recent months.
Fox News contributed to this report.