Michigan men fly to Chicago airport with 44 pounds of fentanyl in checked bags: DEA
CHICAGO - Two men were arrested at Midway Airport on Tuesday after they were caught with 44 pounds of fentanyl in their check bags, officials say. 
Jamire Holingshed, 26, and Robert Lewis, 24, both of Detroit, Michigan, were each charged with a drug-related felony. 
The U.S. Drug Enforcement Administration has been investigating the men since they made a trip from Los Angles to Midway on April 13.
DEA investigators determined the pair would be flying the same route on Tuesday and intercepted their checked bags upon arrival at Midway around 6 p.m.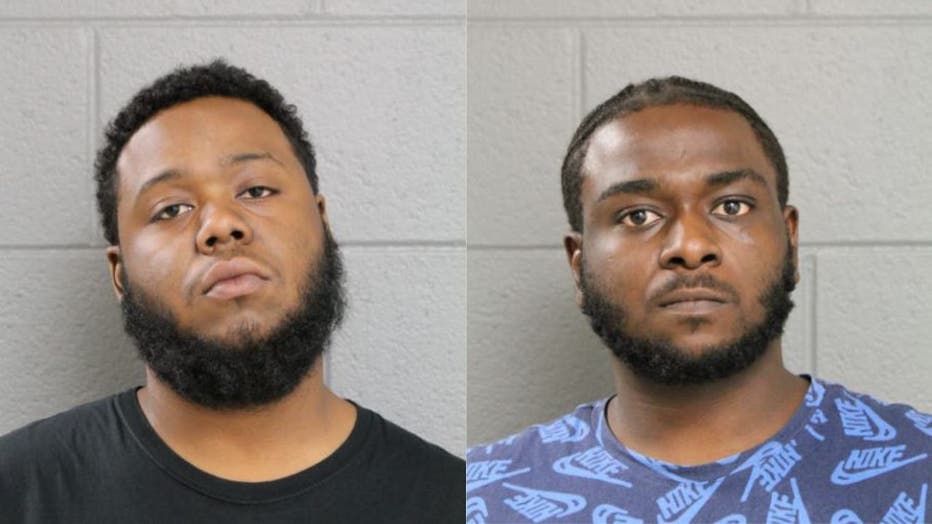 Jamire Holingshed and Robert Lewis (Chicago Police Department)
A Cook County Sheriff's K9 unit indicated that there were narcotics in the bags. Both men identified their luggage and gave officers permission to search them. 
The men each had one checked bag with 10 one-kilogram bricks of fentanyl wrapped in green plastic in them. The bricks were concealed in clothes in the suitcases. 
Officials say after the fentanyl was discovered, the men denied knowing each other and knowing about the drugs. Holingshed told officers someone paid him to bring the suitcase to Chicago.
SUBSCRIBE TO FOX 32 ON YOUTUBE
They were both charged with manufacturing and delivering more than 900 grams of fentanyl. Neither of the men have prior arrest records. 
Holingshed and Lewis appeared in bond court in Chicago on May 3. 
Judge Maryam Ahmad set bail for each defendant at $1,555,500.