Nashville cop who helped take down Covenant school shooter identified as Chicago native
CHICAGO - Heart-stopping body camera video shows the moments Nashville police officers stormed The Covenant School to stop a horrific attack that was underway on Monday morning.
One of the first responders who led the charge in confronting and killing the school shooter is from Chicago.
Metro Nashville police officer Rex Engelbert grew up in the city's Forest Glen neighborhood. The 27-year-old is now being hailed a hero for his courageous actions.
"We have all the kids locked down, but we have two kids we don't know where they are," a school official can be heard saying on Engelbert's body-warn camera. "Yes ma'am," responded Engelbert.
One of the very first officers to arrive at the scene, Engelbert didn't hesitate to run toward danger.
Officer Engelbert and Officer Michael Collazo were named by the Metropolitan Nashville Police Department on Tuesday as two of the first responders who rushed into the small, private Christian school on Monday morning, taking the lead, and firing at the shooter to eliminate the threat.
"Hey, gimme three. Let's get three," Engelbert is heard shouting to his fellow officers. "Let's go!"
Their body camera footage was released on Tuesday.
SUBSCRIBE TO FOX 32 CHICAGO ON YOUTUBE
"Officers didn't wait for reinforcements, they didn't establish a perimeter, they went into the school, they were appropriately armed, they went to the sound of the gunfire and they neutralized the threat," said Ross Rice, former FBI special agent.
Ross commended the response of those first responders.
As they moved through the hallways and closed in on the shooter who was firing rounds on the second floor, Engelbert opened fire – taking the shooter down.
Collazo also fired at the suspect.
Collazo is a nine-year veteran of the department and Engelbert is a four-year veteran.
"Just to see how quick their reaction was, and how precise they moved through the building on that body cam footage, it made me thankful that they were able to do that in the time that they did to stop any more devastation," said Kevin Engelbert, Rex Engelbert's brother.
Rex Engelbert attended Queen of All Saints School in Chicago. He then went to Loyola Academy, where he played football and graduated in 2014, as confirmed by officials with the high school.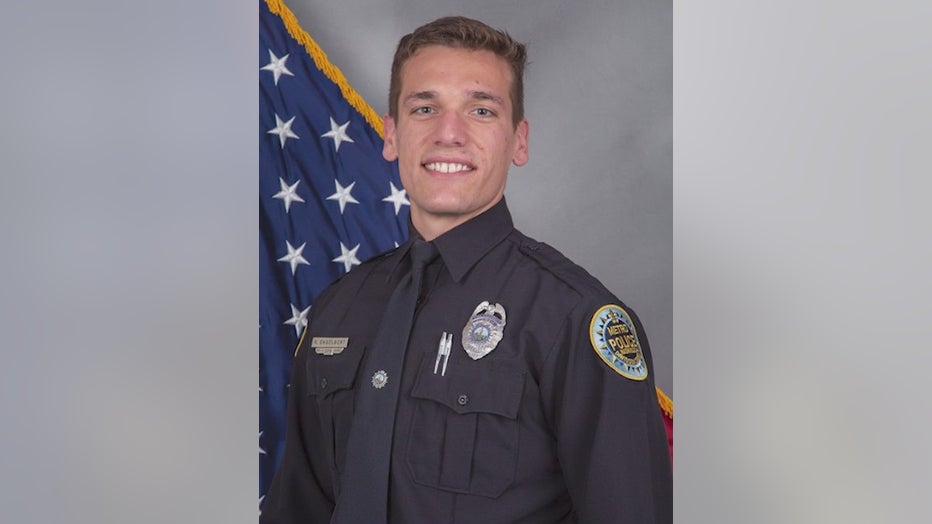 The officer also studied criminal justice at the University of Dayton, Ohio, where he graduated in 2018.
Following his graduation, Engelbert joined the Metro Nashville Police Department – where he undoubtedly is saving lives.
"I just am so thankful that he is OK, and that his training and his fortitude withheld," said Kevin Engelbert.    
Kevin Engelbert added that he and his family offer their most sincere prayers to the victims and their families.  
Three children and three adults were killed in the tragedy.
The Uvalde Foundation for Kids – established after last year's horrific massacre at Robb Elementary School – confirms it will be recognizing Rex Engelbert, Collazo, and their fellow officers with an award for their bravery and dedication.