New $30M ad campaign showcases Illinois as the 'Middle of Everything'
CHICAGO - Illinois Gov. J.B. Pritzker wants tourists back in the Land of Lincoln.

Pritzker and other state officials rolled out a new $30 million ad campaign Monday highlighting Illinois' role as a cultural touchstone with a new slogan, "Middle of Everything."
The campaign will spotlight the state as the center of culture, food and more to help attract visitors.
DOWNLOAD THE FOX 32 NEWS APP FOR BREAKING NEWS ALERTS
It has been a brutal couple of years for the tourism industry, but with pandemic restrictions easing and people looking to spend money, Illinois is hoping a new ad campaign will put tourists back on the road.
"This campaign is a significant next step to aid our state's tourism recovery and positions Illinois for future growth and success that our entire state can rally around – helping our economy, boosting tax revenues, and putting people back to work," Pritzker said in a statement. "As tourists gear up for a busy summer travel season, we welcome visitors near and far to find themselves in the middle of everything that Illinois has to offer."
Directed by Illinois-native actress and comedian Jane Lynch, the ads will air in 20 markets across Illinois and seven nearby states starting this week. The ads will also be on cable TV nationwide starting Apr. 25.
In addition to airing commercials, the campaign will also be featured on highway billboards, bus signage as well as digital and print media ads.
It's part of a $30 million campaign designed to promote the entire state as a tourism destination.
The governor's office said tourism fell by 49% after the pandemic hit costing thousands of jobs.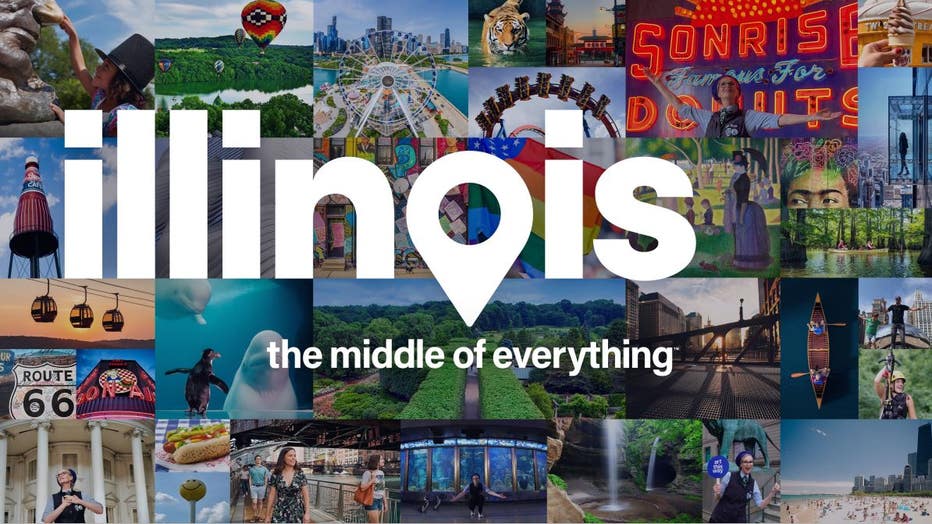 The head of the state's hotel association said Monday they desperately need money from tourism because business travel has still not recovered.
"And why it's so important to us is business travel is still lagging. Companies have still been delayed in putting their employees back on the road," said Michael Jacobson, president of the Illinois Hotel and Lodging Association. "So this summer, leisure is king. Just like last year, it's really going to be those leisure travelers which speaks to the importance of going out with a campaign like this."
"The Middle of Everything campaign highlights what Illinois is really all about. We're the heart of America. One of the largest and most diverse states in the country," Pritzker said.
The campaign is heavily-centered on Chicago attractions including Cloud Gate and the Shedd Aquarium, but also highlights downstate draws like the Abraham Lincoln Museum, Historic Route 66 and the Shawnee National Forest.
The state's tourism and hospitality industry employs upwards of 600,000 people.