OEMC: 238 medical transports, 34 arrests during Lollapalooza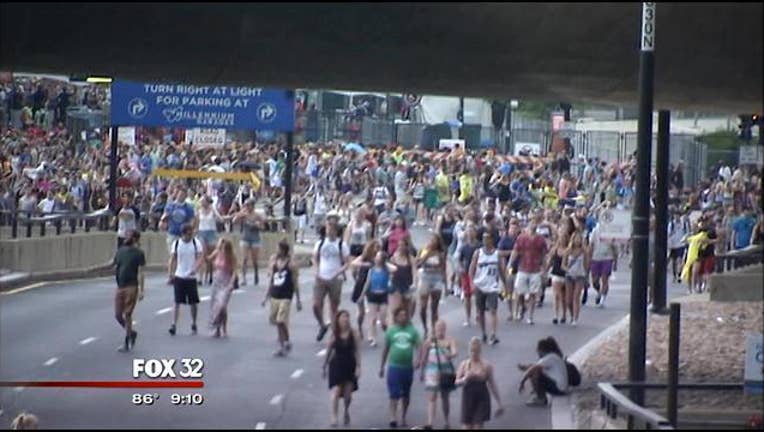 article
At least thirty-three teenagers were treated for alcohol-related illnesses at Lurie Children's Hospital during the Lollapalooza music festival, which also saw several arrests and ambulance calls.
A total of 238 emergency medical transports were made from the annual Grant Park event, according to Office of Emergency Management and Communications spokeswoman Melissa Stratton.
It was almost an even split between boys and girls who were taken to Lurie for treatment, hospital spokeswoman Julie Pesch said. She said the doctor who treated many of the patients was surprised at how intoxicated some of them were.
Among the arrests, a Texas rapper performing at Lollapalooza was among people charged criminally, Stratton said.
Travi$ Scott, born as Jacques Webster, was arrested Saturday afternoon after he urged fans to jump the barricades after playing one song, Stratton said.
Security responded, and the rapper took off, but was later taken into custody, she said.  The rapper and a fan were charged with disorderly conduct. No one was injured.
A total of 34 people were arrested throughout the three-day festival: 7 on Friday, 18 on Saturday and 9 on Sunday, Stratton said. Sixty-nine people were cited—43 of them on Friday.
Many of the citations were issued for fence-jumping and illegal vending around the perimeter of the festival, she said. The arrests were for various crimes, including theft, illegal entry, battery and drugs, she said.
The annual festival attracted an estimated 300,000 fans over its three-day run, Stratton said. It featured nearly 150 artists, including Beatles legend Paul McCartney as Friday's headliner.