Off-duty CPD officer recovering after fire that destroyed his Portage Park home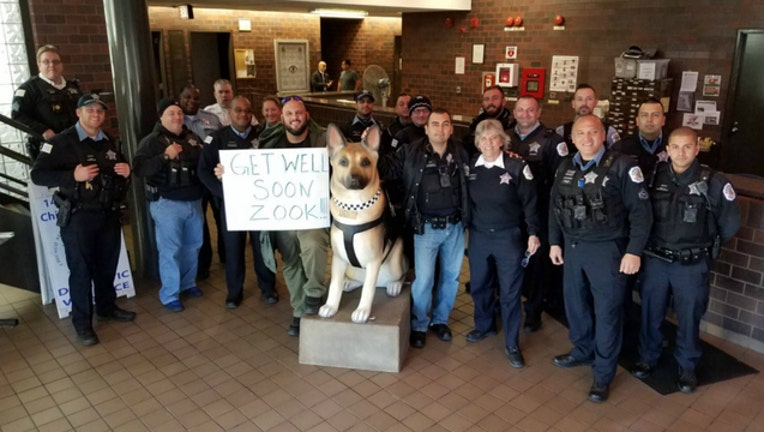 article
CHICAGO (Sun-Times Media Wire) - An off-duty Chicago police officer was injured in a fire that destroyed his home Monday afternoon in the Portage Park neighborhood on the Northwest Side.
Officer John Zook was in the shower about 4:10 p.m. when the fire broke out at his home in the 4000 block of North Mason, according to Chicago police. His wife and son were not home at the time.
Zook got out of the shower to hear the smoke detectors going off and see his home engulfed in smoke and flames, CPD Shakespeare District Cmdr. Fabian A. Saldana said at a news conference Tuesday afternoon. Zook called 911 and searched the house for his dog, Crazy, before losing consciousness in the living room.
Firefighters arrived and brought Zook out onto his front lawn, Saldana said. He woke up outside and told firefighters that the dog was still in the house. They were also able to remove Crazy from the home. The house and all of its contents were destroyed in the fire.
Zook was taken to Lutheran General Hospital in Park Ridge before being transferred to Loyola University Medical Center in Maywood, police said.
Saldana said Zook suffered smoke inhalation and minor burns to his feet. He was undergoing physical therapy Tuesday and could be released from the hospital as soon as Wednesday. The dog was taken to a neighbor's house and was expected to make a full recovery.
Zook is a 27-year veteran of the department and was assigned to the Shakespeare District, Saldana said. Other officers in the district have set up a GoFundMe campaign to assist Zook and his family.