Off-duty CPD officer shot on South Side; 2nd officer shot since Sunday
CHICAGO - An off-duty Chicago police officer was in surgery after two gunmen ambushed him at a red light Monday in Calumet Heights on the South Side.
He was the second CPD officer shot this week.
DOWNLOAD THE FOX 32 NEWS APP FOR BREAKING ALERTS
The officer was in his personal vehicle, stopped at a traffic light at 89th Street and Stony Island Avenue shortly after noon, when two gunman came up and fired into his vehicle, CPD Supt. David Brown told reporters after the shooting.
Officers found the officer shot in his lower torso and rushed him in a squad car to the University of Chicago Medical Center, where he was in surgery, Brown said.
The officer — a four-year veteran of CPD's 4th District — was alert after he was shot, according to Brown.
Hours later after surgery, Chicago officials said the officer who was shot was "doing well" and in stable condition.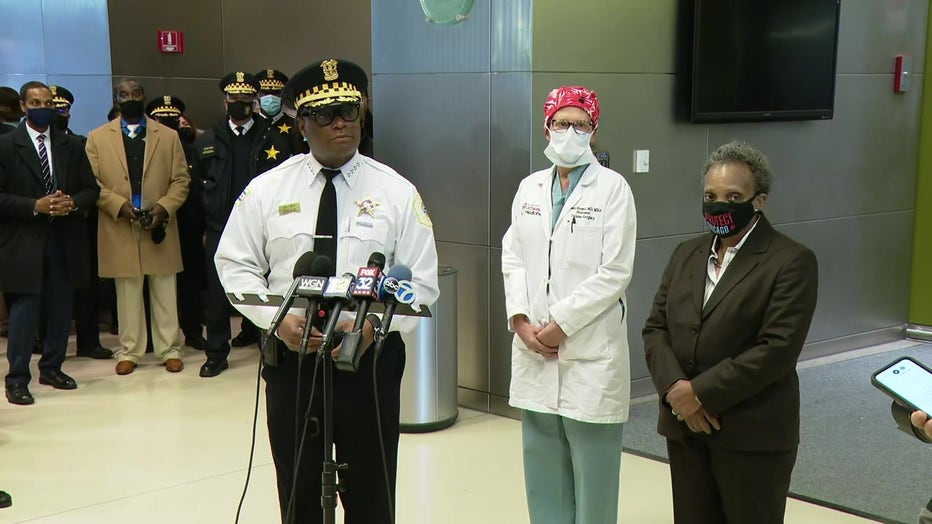 Brown said the circumstances of the shooting were still unclear and couldn't confirm a rumor that the officer was shot in a carjacking.
"We heard rumors of a carjacking but we don't know yet," Brown said. "It's too early to tell."
Brown said investigators were searching for video and witnesses to aid in the search for the shooters.
He was second CPD officer shot and wounded in as many days.
On Sunday, an on-duty Chicago police sergeant was shot while standing in the parking lot of the Gresham District police station, at 7808 S. Halsted St. The bullet grazed his chin. The officer was treated at a hospital and released later that day.
CPD Supt. David Brown said at the time that that sergeant was the first officer struck by gunfire this year, though he said that 12 others had been shot at. Brown said 79 officers were shot at in 2020, and 10 of them were hit.
"We ask that you all keep our officers and their families in your prayers," Brown said Monday.
"Unfortunately, this event reminds us the dangers that our officers face every single day. Whether on or off duty. And we just have to say a prayer for this officer and his family," said Mayor Lori Lightfoot.
FOX 32 News contributed to this report.