Oscar Lawton Wilkerson Jr., last known surviving member of the Tuskegee Airmen in Chicago area, dead at 96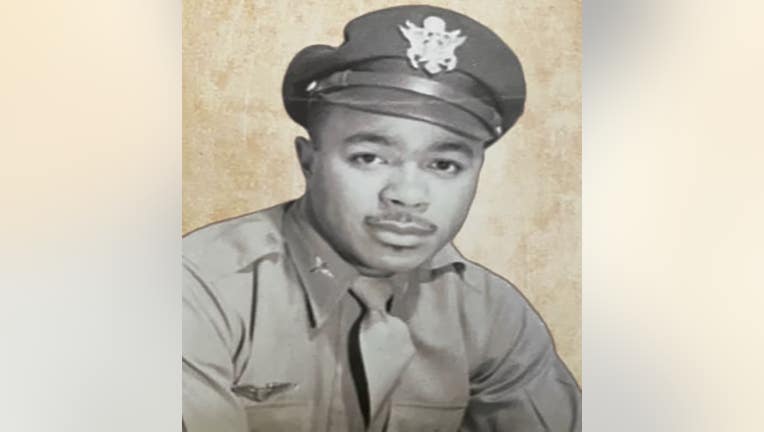 article
CHICAGO - Oscar Lawton Wilkerson Jr. told generations of kids about being one of the Tuskegee Airmen, the nation's first Black aviation combat unit.
At schools and churches, he told the story of how the unit became legendary for aerial prowess and for shattering the stereotype that Black men weren't capable of being combat pilots.
He delighted in introducing children to aviation by meeting them at Gary/Chicago Airport and taking them up for their first flights — free — through the Experimental Aircraft Association's Young Eagles Program.
As a kid growing up in Chicago Heights, Mr. Wilkerson dreamed of flying as he tossed toy airplanes. He later became a bomber pilot with the Tuskegee Airmen, whose competence and bravery helped pave the way for desegregation in the military.
Only the groups' fighter pilots — known as red tails because of the color of their plane's tails — served in combat during World War II. The war ended before bomber pilots were activated.
Despite not taking part in the  aerial combat that Tuskegee Airmen fighter pilots became known for, Mr. Wilkerson felt he was 'riding their shoulders' and that it was his duty to keep alive the legend they built, according to a story published by the U.S. Army Reserve.
Mr. Wilkerson, the last known surviving member of the Tuskegee Airmen in the Chicago area, died Feb. 8 of natural causes. He was 96.
SUBSCRIBE TO FOX 32 ON YOUTUBE
In 2000, 55 Chicago-area Tuskegee Airmen — pilots, crew members and support staff like mechanics — attended an event honoring them. Now, with Mr. Wilkerson's death, there are no surviving original members of the Tuskegee Airmen left in the Chicago chapter of Tuskegee Airmen Inc., a nonprofit organization dedicated to preserving the group's history.
"His departure is a great loss to us and the entire community, as he frequently made appearances at schools, churches, etc., talking to people, particularly young people, about the Tuskegee Airmen and his experience as a member of that elite group," said Ken Rapier, head of the Chicago chapter.
Fewer than 1,000 pilots served with the Tuskegee Airmen. Only three fighter pilots are still alive, according to Jerry Burton, national president of the nonprofit. The number of surviving bomber pilots isn't known, but it's thought their ranks have similarly dwindled.
Mr. Wilkerson was a senior at Bloom High School in Chicago Heights when he registered for the Army Air Force. He passed a test and 10 days after graduation found himself on a train to Tuskegee, Alabama, to start training.
He rode a Pullman sleeper car but upon crossing the Mason-Dixon line was directed to a Blacks-only car. Mr. Wilkerson called that his "first real hard taste of segregation," during an interview with Chicago's Pritzker Military Museum & Library.
He had a similar experience on a bus in Alabama despite being in uniform.
"It was pretty devastating for him that he had gone through all this training as a pilot and was ready to put his life on the line for his country, and he was told to go to the back of the bus," Rapier said. "He got emotional at retelling that story."
Despite his training, job options were limited upon returning to Chicago.
"After the war, we were not able to go into commercial aviation," Mr. Wilkerson told the military museum. "Blacks weren't accepted at that time. I couldn't fly commercially. So I became a bus driver in Chicago."
The Chicago chapter of Tuskegee Airmen Inc. was named after the extinct dodo bird because its aviators "had their wings but could not fly," Rapier said.
Mr. Wilkerson, who lived in Markham, fulfilled a dream by owning a plane with his friend Maceo Ellison, a retired physician.
"He and I owned a Cessna 172 and flew out of Lansing Municipal Airport, and we flew to all of the surrounding airports, anything within 75 to 100 miles," Ellison said."Every Saturday for 15 or 20 years, we'd get into the airplane, fly somewhere and buy a hamburger and come back. We called it the $50 hamburger because it cost that much in gas."
Mr. Wilkerson, who was a bomber pilot because he was too big to fit in the cockpit of a fighter plane, didn't brag about being part of the Tuskegee Airmen, Ellison said.
"He could have walked on water," Ellison said of the reverence in the Black community for Tuskegee Airmen. "There weren't too many Black heroes back then besides the boxer Joe Louis."
Mr. Wilkerson was among about 300 surviving members awarded the Congressional Gold Medal in 2007 by President George W. Bush.
Mr. Wilkerson also worked as a freelance photographer most of his life. And, in 1962, he began a career in radio with the old WBEE-AM in Harvey, where he was a weekend host known as "Weekend Wilkie" as well as program director and manager of community affairs. He later worked at WMAQ-AM.
Services have been held.