Pence slams 'disappointing' Obama speech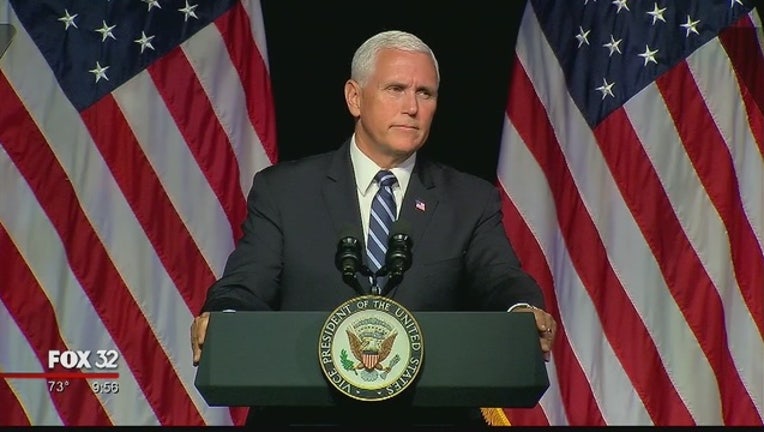 article
FOX NEWS - Vice President Pence lambasted Barack Obama's return to the campaign trail in an interview with "Fox News Sunday," telling host Chris Wallace that the former president's rhetoric was a "very disappointing" attempt to paper over a legacy pockmarked by major tax increases and a massive hike in the national debt.
"It was very disappointing to see President Obama break with the tradition of former presidents, and become so political, and roll out the same tired arguments that he and liberals have made over the last eight years," Pence said.
"We inherited an economy that was growing a little bit more than 1 percent," the vice president continued. "In the last quarter, our economy is growing at 4.2 percent. Four million new jobs, unemployment at a 50-year low.  And to have President Obama come out and tout his policies that resulted in less than 2 percent growth -- which saw tax increases, ObamaCare regulation, and a doubling of the national debt -- I think was -- it was very disappointing."
Pence also unloaded on what he called the "un-American" anonymous author of a New York Times Op-Ed last week, and vowed that he would take a lie-detector test to prove he did not write it.
"I would agree to take it in a heartbeat and would submit to any review the administration wanted to do," Pence said. As for whether other officials should be forced to take a polygraph, Pence demurred, saying that's up to the president.
The Op-Ed, purportedly penned by a "senior administration official," depicts a White House on the fritz and claims that top-level bureaucrats are actively working to undermine parts of President Trump's agenda.
"If they are that senior administration official -- they're violating an oath, not to the president, but to the Constitution," Pence said, adding that President Trump was concerned about the national security implications of the situation as well. "Look, it's un-American.  And I think that's why you've seen Republicans and Democrats condemn this."
Pence continued: "To have someone who literally celebrates coming in every day to frustrate the agenda that the president and I were elected to advance -- it really is an assault on our democracy.  And it should be universally condemned."
The Op-Ed conspicuously used the term "lodestar," which Pence has been known to employ in speeches. Asked by Wallace whether that appeared to be an attempt to frame him, Pence responded, "I wouldn't know," but added that the whole brouhaha was an attempt to "distract attention from this booming economy and from the president's record of success."
The vice president then disputed a particularly incendiary claim in Bob Woodward's new book "Fear: Trump in the White House" that then-chief White House economic adviser Gary Cohn removed a document from President Trump's desk that would have withdrawn the U.S. from the U.S.-South Korea Free Trade Agreement (KORUS). The book makes a similar claim about the North American Free Trade Agreement (NAFTA), which is also being renegotiated.
"I have every doubt that happened," Pence said, even after Wallace pointed out that Woodward had produced the specific document in question. "I really do. ... The President renegotiated the South Korean free trade agreement in a way that put American jobs and American workers first."
The two countries are planning to sign a re-negotiated free deal in New York in late September. The new KORUS will offer greater benefits to American pharmaceutical and car companies in a variety of ways, including by doubling the cap on the number of cars Korea will import that meet U.S. environmental safety standards, as well as by including American-made drugs in the country's national health care reimbursement plan.
Despite the one-two punch of the Woodward book and the Times Op-Ed, Pence said Americans should focus on results as the midterms approach.
"Sometimes I watch a little bit of TV in the morning, and then I go to the White House, and I feel like I'm in a parallel universe," the vice president said. "I walk into a White House where there's a President behind the desk; he's in command. He's constantly driving forward on delivering on the promises that we made for the American people.  And then I go home at night and I see cable TV talking about all of this stuff about disarray in the White House, and it's just not my experience.
"You look at the passage of historic tax cuts for businesses and individuals, and the way that jobs are coming back, and investment is coming back," Pence added. "The re-negotiation of trade deals, our allies contributing more to our common defense. All of that is happening because we have a president of almost boundless energy who comes in every day -- regardless of what's happening in the Washington media culture -- and says, 'What are we doing today to deliver for the American people?' And I think that's why I see such enthusiasm as I travel across the country. And that's why I believe the American people are going to vote to re-elect Republican majorities in the House and Senate this fall."