Penn State calls immigration posters 'deeply offensive'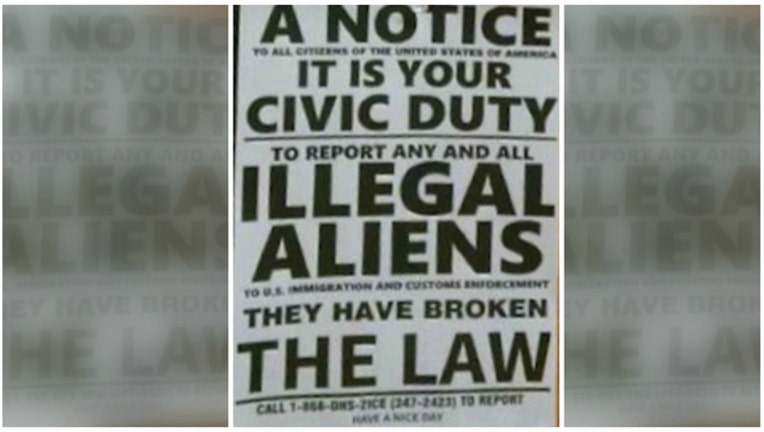 article
STATE COLLEGE, Pa. (AP) - Penn State says posters that someone has put up on university bulletin boards calling on people to report those in the country illegally are "deeply offensive," saying they "appear to be designed to provoke anger, fear and hate."
Officials said the posters began appearing on public bulletin boards on the main campus at State College. The university's student newspaper, The Daily Collegian, said images of the posters had been circulating on social media earlier in the week. An image published by the paper included the message, "It is your civic duty to report any and all illegal aliens. They have broken the law."
"The posters are unsigned and appear to be designed to provoke anger, fear and hate. The university finds them deeply offensive," Penn State said in a statement.
The Pittsburgh Post-Gazette reported that U.S. Immigration and Customs Enforcement officials called the signs "bogus" on Friday, saying the agency wasn't involved and wouldn't solicit information in that manner.
Such posters found on bulletin boards designated for use only by university organizations were being removed, the university statement said. Posters on public boards would not be removed "but may be relocated if they are used to block other posted documents," the university said.
The posters came amid concern on campus over federal immigration policies of the Trump administration, including a temporary ban on immigration from seven Muslim-majority nations that has been blocked by the federal courts.
University president Eric Barron expressed opposition to the action in a Jan. 29 statement and urged international students, faculty and scholars to carry immigration documents proving their legal statuses "whenever you are traveling within the United States."
The university said in its statement about the posters that officials wanted to emphasize "that every student on this campus has earned the right to be here based on their academic qualifications and hard work.
"Penn State is enriched by students and scholars from around the world and we will continue our work on providing a climate of inclusion for all, regardless of country of origin," the university said.