Police backlash puts pressure on Tarantino's 'Hateful Eight'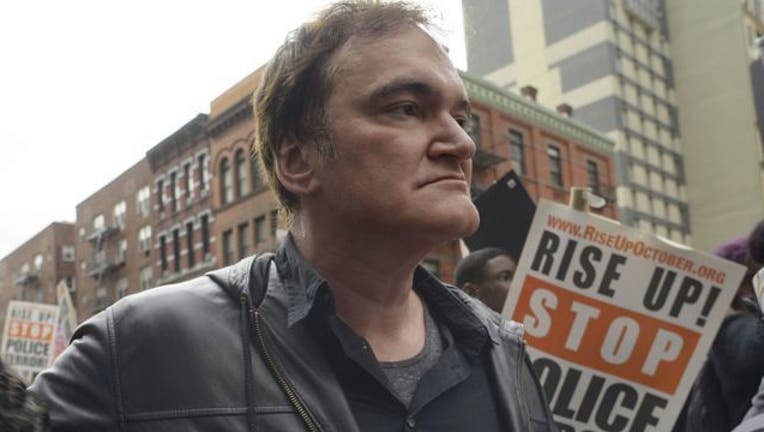 article
NEW YORK (AP) — Calls by police groups to boycott Quentin Tarantino's "The Hateful Eight" are putting pressure on one of December's most anticipated releases and inserting one of Hollywood's top directors into a pitched cultural battle.
In recent days, a growing number of police groups have called for the boycott of the upcoming Weinstein Co. release. After local police organizations in New York, New Jersey, Chicago, Philadelphia and Los Angeles, the National Association of Police Organizations recently joined the ranks opposing Tarantino after remarks the director made during a recent rally against police brutality.
"We ask officers to stop working special assignments or off-duty jobs, such as providing security, traffic control or technical advice for any of Tarantino's projects," the organization said in a statement. "We need to send a loud and clear message that such hateful rhetoric against police officers is unacceptable."
Tarantino attended the Brooklyn rally against brutality on Oct. 24 where he told The Associated Press: "I'm a human being with a conscience. And if you believe there's murder going on then you need to rise up and stand up against it. I'm here to say I'm on the side of the murdered."
Tarantino's comments drew condemnation from, among others, New York Police Department Commissioner William Bratton. "Shame on him," he said, speaking shortly after NYPD officer Randolph Holder recent fatal shooting in East Harlem. "There are no words to describe the contempt I have for him and his comments at this particular time."
The response has made Tarantino a regular topic on Fox News and at Hollywood soirees, alike. Fox News' Bill O'Reilly last week said Tarantino "lives in a world of his own." At the Hollywood Film Awards on Sunday night in Los Angeles, Jamie Foxx, star of Tarantino's "Django Unchained," defended the director. Foxx urged him: "Keep telling the truth and don't worry about none of the haters."
Tarantino's father, Tony Tarantino, has even issued a statement through the New York Police Patrolmen's Benevolent Association saying his son is "dead wrong" about police officers. The director has previously said that his father "was never part of my life."
Tarantino has yet to respond publicly to the backlash. Representatives for the director didn't respond to messages Monday.
Expectations are high for "The Hateful Eight," which opens Christmas Day exclusively in film projections of 70mm before expanding to nationwide theaters January 8. Starring Samuel L. Jackson and Kurt Russell, it's a wintery Western about a group of bounty hunters holed up together during a blizzard.
Tarantino's last film, 2012's "Django Unchained," earned $425.4 million globally and won two Oscars, including best screenplay for Tarantino.
Harvey Weinstein, co-chairman of the Weinstein Co., has a long history of using media storms to stoke interest in a movie. This time, the fortunes of "The Hateful Eight" — for better or worse — risk being altered by a controversy not of his making.