Polk couple arrested in 'bone chilling' child abuse case
BARTOW, Fla. - Two people are behind bars after deputies say a child who nearly drowned three years ago died in their care earlier this month. 
According to the Polk County Sheriff's Office, crews with Bartow Fire Rescue received a call from a woman around 3 p.m. saying that her toddler's pulse oximeter wasn't working properly, but it was not an emergency. However, when emergency responders arrived, they say they found a 3-year-old boy without a pulse hooked to a ventilator breathing machine. The child was taken to an area hospital where he died. 
Detectives say the child had extensive injuries, including a severely bloated belly, numerous open sores and his colon was visible. They added there were several abrasions on the child's back consistent with bed sores and he smelled of decomposition. 
"This child was rotting in the bed," stated Polk County Sheriff Grady Judd. 
According to investigators, the toddler had nearly drowned while at a vacation home in Davenport in the summer of 2020. Since then, detectives say the toddler has been connected to a ventilator due to the near drowning incident. 
READ: 'We're not going to have it': Polk County Sheriff Grady Judd on recent gun violence involving kids
A free home health nurse had been assisting the child, but switched companies about two months ago and hadn't been back to the home, according to PCSO. 
Polk County Sheriff Grady Judd says, when interviewed, the home health company stated that the child's parents began rejecting care last October. Judd says, according to the agency, the couple would not answer the door or would not be home when the nurse arrived. 
The nurse said the child's parents, 24-year-old Takesha Williams and 25-year-old Efrem Allen, Jr., were taught how to care for the boy and knew how to change out his trach.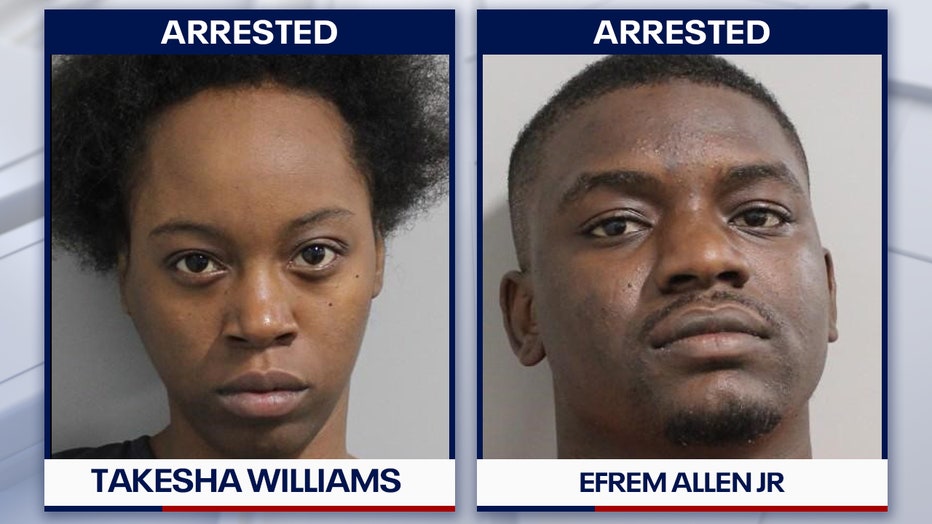 Takesha Williams and Efren All mugshots courtesy of the Polk County Sheriff's Office.
Williams and Allen told investigators that they notice the toddler's stomach was bloated and open sores were developing after the nurse left. However, they said they feared their children would be taken away from them, so they did not reach out for help. 
"They just got tired of him," Judd added. "They got tired of the intensive care this child needed and as a result, this child laid there and suffered and suffered and suffered until finally there was no life left."
The medical examiner said the toddler has sepsis, pneumonia and stage 5 ulcers. 
Judd shared, "I have seen thousands of children abused, hundreds of children murdered at the hands of their parents. I have never seen the horror that we saw with this poor child at the hands of these two folks…You can't even imagine how horrible the wounds, the ulcers, this child endured at the hands of these folks." 
READ: Has Florida man finally met his match? Meet the equally eccentric Florida sheriffs going after these guys
"My prayer would be that the child was in a deep enough state that he wasn't aware of what was happening to him," Judd added. 
The couple was arrested on May 13 for negligent child abuse causing great harm and those charges were upgraded to aggravated manslaughter on May 26. 
"I've seen some truly horrific events in my long law enforcement career, but I have never, ever seen anything as sad, as bone-chilling, and as sickening as what this baby suffered before finally perishing from the despicable acts of these two criminals," stated Polk County Sheriff Grady Judd. 
READ: What does it take to be a member of the SWAT team?
Judd added that the couple's other children, a 2-year-old and a 10-month-old, who appear to be healthy, have been removed from their care. 
"God's not happy and it'll be up to God past what the legal system can do," Judd stated.