Rep. John Lewis' book sales skyrocket after Trump Twitter attack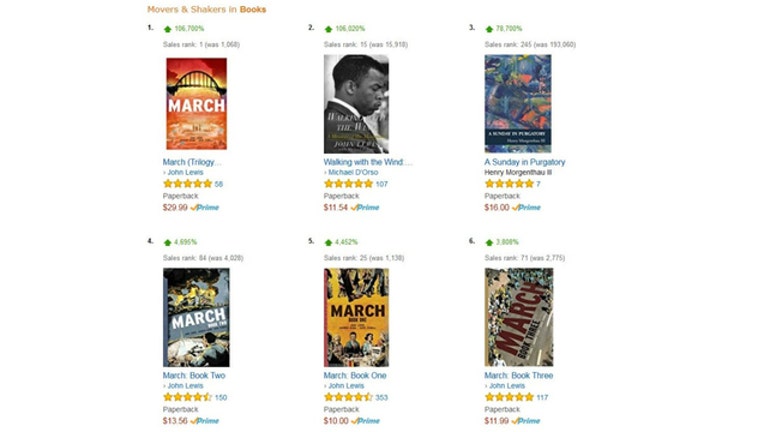 article
President-elect Donald Trump's Twitter attack on Rep. John Lewis has done wonders for Lewis' books.

Lewis is the author of a graphic novel series called "March." The "March" trilogy is now the number one seller on Amazon. That's an  increase of 106,700% in the past few days. It was previously ranked 1,068 in books.

Lewis' biography, "Walking with the Wind," has shot up almost as much. It was ranked 15th in Amazon sales on Saturday afternoon.

In all, five of the top six books that Amazon labeled as "Movers and Shakers" on Saturday afternoon were John Lewis books.

Lewis is a civil rights icon who represents Georgia's 5th Congressional district. He is the last surviving speaker from the 1963 March on Washington, which was led by Dr. Martin Luther King, Jr.

During an interview, Lewis said that Trump was not a legitimate president, because he thinks "the Russians participated in helping this man get elected."

In response, Trump tweeted: "Congressman John Lewis should spend more time on fixing and helping his district, which is in horrible shape and falling apart (not to mention crime-infested) rather than falsely complaining about the election results. All talk, talk, talk - no action or results. Sad!"

Lewis' district in Georgia includes 75% of the city of Atlanta and some wealthy suburbs. It is 60% African American.