River North stabbing was part of murder, sex fantasy, prosecutors say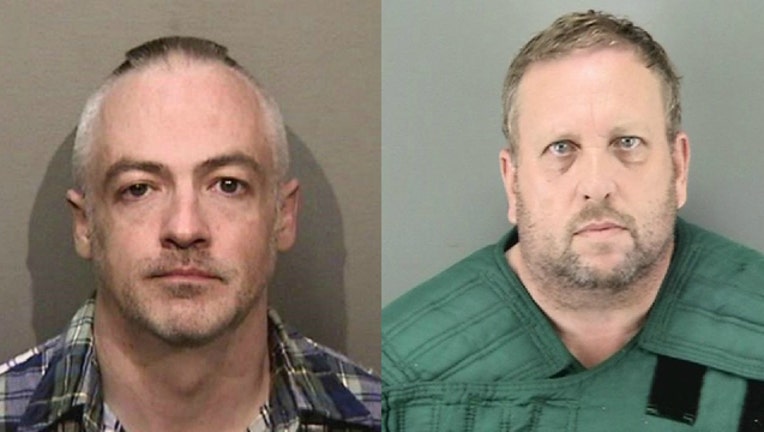 article
SUN-TIMES MEDIA WIRE - The brutal stabbing in a River North high-rise was two men carrying out a fantasy of killing someone, prosecutors said Sunday.
Former Northwestern professor Wyndham Lathem and Andrew Warren both stabbed the victim, prosecutors said during a court hearing, the Chicago Sun-Times is reporting.
Warren stabbed Trenton Cornell-Duranleau with such force he broke the knife blade, prosecutors said.
At one point during the attack, Lathem gave Warren a cellphone and told him to record the murder, prosecutors said. Warren said he did not videotape it, prosecutors said.
Lathem paid for Warren's flight from London to Chicago in order to carry out the fantasy, which was supposed to be a murder-suicide, prosecutors said.
Lathem and Warren stood quietly in Judge Adam D. Bourgeois' courtroom. Lathem wearing a green-and-blue gray plaid button up shirt; Warren in a gray T-shirt.
"The heinous acts speak for themselves," Bourgeois said, ordering the two men held without bail.
Earlier Sunday, Area Central Detectives Commander Brendan Deenihan said while Wyndham Lathem and Trenton Cornell-Duranleau were dating, the stabbing was not domestic in nature.
"It was not domestic in nature, like a husband-wife or boyfriend-boyfriend or love triangle," Deenihan said. "That was not the motive. It was a little more dark and disturbing, as far as I'm concerned."
The 26-year-old licensed cosmetologist was found brutally murdered in Lathem's River North apartment on July 27. Two knives were used to kill Cornell-Duranleau, one of which broke. Shortly thereafter, an arrest warrant was issued for Lathem and Warren, who ultimately surrendered to authorities in the San Francisco Bay Area.
The discovery of Cornell-Duranleau's body — which was stabbed more than 70 times — was prompted by an anonymous phone call. Deenihan said Lathem made that call while in Lake Geneva, Wisconsin.
Deenihan said Lathem picked up Warren, whom he met through the internet, from O'Hare Airport several days before the murder. Warren — in the United States for the first time — was with Lathem when the call from Wisconsin was made.
The two fled Chicago after Cornell-Duranleau was killed and drove a rental car to the Lake Geneva library where they made a $1,000 donation in Cornell-Duranleau's name before fleeing to California, where Lathem has close friends and family.
Since his surrender, Lathem has retained an attorney and invoked his right to remain silent, Deenihan said. Warren provided detectives with a statement and is being represented by a public defender.
Hours before they were taken into custody, police revealed that Lathem had sent an apologetic video message to his friends, family and relatives of Cornell-Duranleau.
Chicago Police have not released details of what Lathem said in the video, though CNN reported he confessed to committing "the biggest mistake of my life" and said the message had been encrypted.
San Francisco police told the Chicago Sun-Times that Lathem dropped off Warren at a police station in Golden Gate Park. After that, Lathem turned himself in to federal authorities in Oakland after his attorneys negotiated a surrender.
Cornell-Duranleau, who graduated from cosmetology school in Michigan and moved to Chicago fairly recently, was buried Aug. 12 in Lennon, Michigan, just west of Flint.
Cornell-Duranleau's Chicago apartment was in the Heart of Chicago neighborhood just west of Chinatown.
In an obituary posted to Facebook, his mother, Mischelle Duranleau, said he was born in Lennon and loved animals, music, cars and video games. His biological mother died when he was young, and he was adopted by Duranleau and raised among a large family of adopted siblings.
"His enthusiasm for life was infectious. Trenton was a caregiver and loved to help others," Duranleau wrote.