Sandi Jackson reports to prison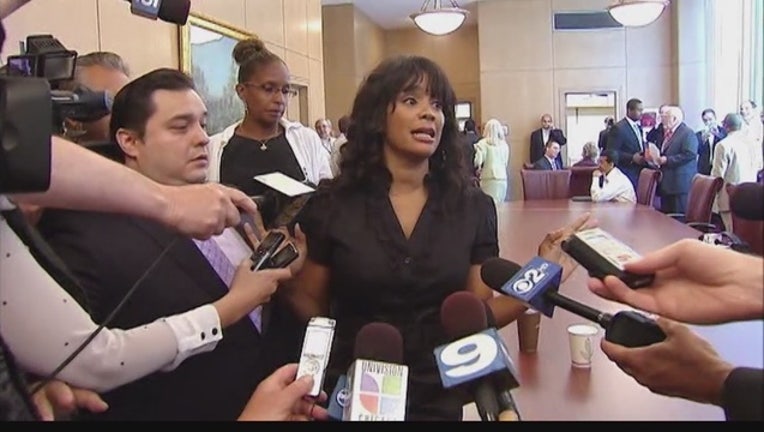 CHICAGO (AP) — The wife of former Congressman Jesse Jackson Jr. reported to prison Tuesday, the second half of the once-powerful political couple to serve time for convictions tied to $750,000 in lavish illegal spending of campaign money on items from furs to vacations.
Sandi Jackson, herself a former Chicago city councilwoman, presented herself at the Federal Prison Camp at Alderson in West Virginia to begin serving a one-year sentence for filing false income tax returns, the U.S. Bureau of Prisons said in an emailed statement.
She starts her prison term one month after her husband completed his 2½ year sentence on a fraud conviction for the illegal spending. The judge who sentenced both of them in 2013 after they reached plea deals with prosecutors allowed the Jacksons to stagger their sentences in a concession to their two school-aged children.
Sandi Jackson, 52 and, like her husband, a Democrat, will serve her time about 250 miles west of Washington, D.C., where the Jacksons have made their home in recent years. The Alderson prison has held several high-profile inmates, including TV personality Martha Stewart, who served five months for lying about a stock sale and was released in 2005.
The facility has around 1,000 inmates and, though it is a minimum-security facility, it is highly regimented. That includes frequent contraband shakedowns, mandatory menial jobs that pay 40 cents an hour and the issuance of a brown khaki uniform, the prison's online guidebook says. Sandi Jackson will be known to staff by No. 32453-016, her inmate number.
It's a long way from the lifestyle court documents described the Jacksons as living at least in part because of their misuse of campaign cash.
Among the items Sandi Jackson spent the campaign money on were a $1,500 black and red cashmere cape, a $1,200 mink reversible parka and a $1,500 black fox fur; and the couple spent nearly $9,600 on children's furniture, according to court papers filed in the case.
Jesse Jackson Jr., 50 and the son of civil rights leader Rev. Jesse Jackson, served in Congress from 1995 until he resigned in November 2012, ending a once-promising political career. He left Congress that June, and his staff eventually confirmed that he took a medical leave for treatment of bipolar disorder and other issues.
Jackson had been on home confinement in Washington in recent months, but he was officially registered as free from federal custody last month. He is on three years of supervised release and must do 500 hours of community service.
___
Follow Michael Tarm on Twitter at http://twitter.com/mtarm