Suspect sought in shooting of police officer near Champaign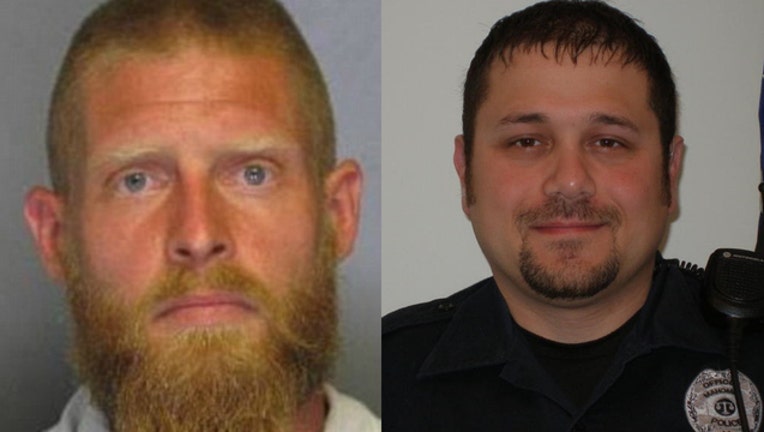 article
CHAMPAIGN, Ill. (AP) - Police in a central Illinois village searched Sunday for a man suspected of shooting an officer in the arm, an incident that sparked a fatal collision when a trooper pursuing the suspect struck and killed a woman who was driving her van about 45 miles away.
The (Champaign) News-Gazette reported Mahomet officer Jeremy Scharlow, 35, was shot in the arm Saturday night outside a home. Mahomet Police Chief Mike Metzler said that Scharlow was recovering after being released from a hospital Sunday morning.
Metzler told the newspaper that the officer, a nine-year veteran of his department, was shot after a traffic stop initiated by a different police officer. The suspect then got into a fight with the second officer, who reportedly attempted to use a stun gun on the driver.
A Champaign County judge on Sunday issued an arrest warrant for Dracy "Clint" Pendleton, 34, of Bellflower, accusing him of aggravated battery with a firearm. The Illinois State Police said later Sunday that Pendleton, who was also believed to be wounded, has additionally been charged with attempted murder of a police officer.
Master Sgt. Matthew Boerwinkle told the newspaper that a trooper responding to a call about the Mahomet officer's shooting struck a van at a Decatur intersection, killing a 26-year-old woman. The trooper had activated his flashing lights and siren.
Authorities hadn't yet released the names of the 53-year-old trooper or the crash victim by Sunday afternoon. Both were taken to a local hospital, where the woman was pronounced dead.
Authorities said Pendleton fled the area in a stolen pickup truck and is armed with an AK-47 assault rifle.
An extended family member said that Pendleton had recently moved out of his marital home after separating from his wife.
Jack Dollahon said that Pendleton — his grandson's half brother — works as a contractor and is a father of two sons, both under 2.