Taskmaster judge presides over Van Dyke murder trial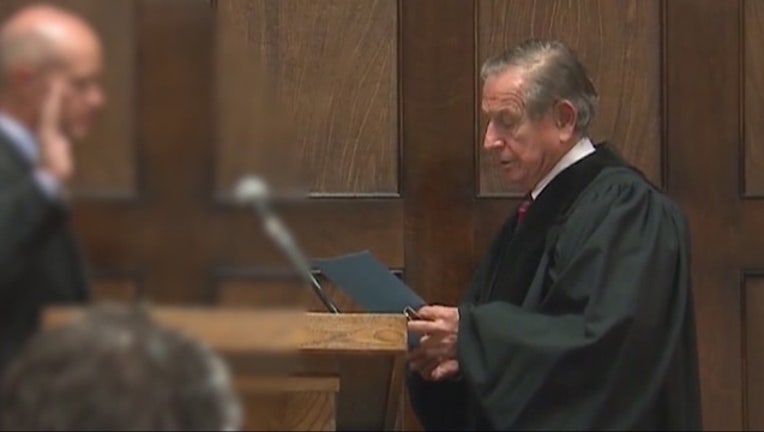 article
CHICAGO (AP) - The judge hearing the trial of a white Chicago police officer accused in the deadly shooting of a black teenager has presided over some of the biggest cases in the city's recent history - and he has a reputation as a fearless taskmaster.
To anyone who has watched Cook County Judge Vincent Gaughan dress down defendants for so much as sighing, upbraid ill-prepared attorneys, or tell a lawyer that he can no longer speak in court, a story about him chewing out reporters for gum stuck under benches is easy to believe.
Holding up a baggy containing the chewed confections he had collected, Gaughan seemed more like the attorney he once was presenting crucial evidence to a jury.
"Don't stick gum on the benches," he sternly warned the reporters assembled before him. "Actually, it's a crime."
Now Gaughan is at the center of one of Chicago's biggest trials in decades: Officer Jason Van Dyke is charged with first-degree murder in the shooting of 17-year-old Laquan McDonald four years ago.
Unless Gaughan agrees to move the trial because, as Van Dyke's attorneys contend, the extensive publicity surrounding the case makes it impossible for him to get a fair trial in Chicago, the jury will on Monday hear opening statements. Van Dyke's attorneys on Friday opted for a jury trial rather than having Gaughan decide the case alone.
For Gaughan, 77, the trial caps a career and life as a judge, an attorney, a war hero and a young man who had his own brush with the law.
Gaughan graduated from the University of Illinois with an engineering degree, joined the Army and was shipped off to Vietnam. In February 1967, his company came under attack. What happened next earned Gaughan a Bronze Star.
"Lieutenant Gaughan courageously aided in rescuing wounded personnel and returning them to the safety of a defensive perimeter," reads the Bronze Star citation obtained by the Chicago Tribune. "Throughout the night, he inflicted heavy casualties on the enemy, completely disrupting their attack."
After returning from Vietnam, the Tribune in 1970 reported that police were dispatched to Gaughan's parents' home one night because he had fired a rifle into a neighbor's house. After police arrived he fired again, sending bullets "smashing through a dining room window, narrowly missing the policemen."
Gaughan asked to speak to a priest. Then Gaughan, the son of Irish immigrants, said a policeman should come too. "An Irish sergeant," he shouted.
What ultimately happened after Gaughan surrendered isn't known. He declined to talk to The Associated Press for this story. There's no record of felony charges against him in 1970, and the Cook County Circuit clerk's office said misdemeanor case files that old have long since been destroyed.
Whatever happened, he was admitted to the Illinois Bar in 1972 and joined the public defender's office in 1973. He stayed until 1991, when he was appointed to the bench. He was elected the next year and has been re-elected ever since.
On the bench, Gaughan is dauntless, willing to stop the proceedings for the even the slightest breach of etiquette. On Friday, he scolded a man who did not stand with others in the court, asking: "Are you hearing impaired?"
"Nobody pushes him around," said David Erickson, a Chicago-Kent School of Law professor who has known Gaughan for decades.
To Erickson, that means Gaughan is the perfect choice for such a highly charged case. The fallout from McDonald's shooting has already cost a police superintendent and top county prosecutor their jobs. And though Mayor Rahm Emanuel didn't say his sudden decision to not seek re-election had anything to do with the case, had he run again, his campaign would have been dogged by questions about his much-criticized legal effort to prevent the release of the dashcam video.
"A lot of judges would be afraid of this case" Erickson said. 'But Vince isn't afraid of it."
Steve Greenberg, an attorney who has appeared before Gaughan scores of times, agrees.
"You watch him and he's clearly not worried about what other people think," he said.
That was clear when, during a hearing in R. Kelly's child pornography case, he threw a woman in jail for taking pictures of the R&B singer with her cellphone. And it has been clear as he issued gag orders in the R. Kelly and Van Dyke cases, effectively shutting down attorneys who typically love talking to the press.
Gaughan initially hindered media access to court filings, ordering that they all be delivered to him instead of the clerk's office. The Illinois Supreme Court ordered the judge to stop after an appeal from several news organizations, including The Associated Press. But he continues to leave the bench to talk secretly with attorneys, and he last month cleared his courtroom of reporters and spectators before McDonald's mother took the witness stand.
"We've never heard of anything like this anywhere else," said Jenn Topper, spokeswoman for the Washington, D.C.-based Reporters Committee for Freedom of the Press. "The public has a First Amendment right to know what is going on in court... and by keeping so much secret it sends a message that the public has no role in holding the court systems accountable."