Teen massacre victim begged for mercy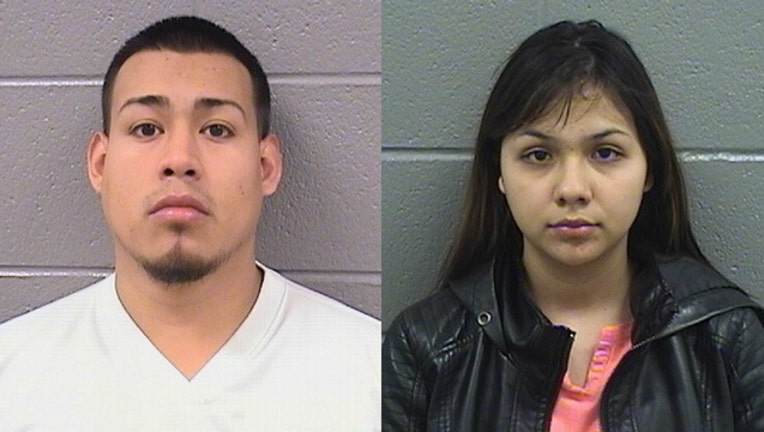 article
CHICAGO (Sun-Times Media Wire) - Before Diego Uribe Cruz plunged a knife into his 13-year-old cousin, prosecutors said he had the boy look out the window and wait for his grandfather, who was on his way home with hot chocolate and tamales, the Chicago Sun-Times is reporting.
"Please no! Please don't! I just want to live," prosecutors said Leonardo Cruz cried out as he was pushed into a corner of his living room and stabbed repeatedly while the teen's other relatives — including his 10-year-old brother, Alexis — lay in pools of blood.
After Diego Uribe Cruz's bond hearing Friday, Cook County State's Attorney Anita Alvarez described the slaughter of the six members of the Gage Park family last winter as "horrific."
Uribe Cruz, 22, who had allegedly come to the home with his girlfriend and a gun in tow on Feb. 2, "hung" out with the family and even ate with them before the attack that Judge James Brown and Alvarez described as "pure evil."
Uribe Cruz, the nephew of victim Maria Martinez's ex-husband, told police he had a "lot of anger" at how she treated his uncle.
But his main motivation to kill that day was to score cash, Uribe Cruz's girlfriend, 19-year-old Jafeth Ramos, confessed to detectives, Assistant State's Attorney Guy Lisuzzo said.
The couple, who asked the boys to show them where the money was located, used some of the $550 they swiped for diapers and milk for their one-year-old son, Lisuzzo said.
Some of change stolen from the home, in the 5700 block of South California, was taken from a piggy bank. Uribe Cruz and Ramos also took jewelry, an Xbox One gaming system and cell phones, which they later broke and disposed of, Lisuzzo said.
Alvarez said the murders were among the most gruesome she dealt with during her career.
"The grisly details of this crime as we now know them now are a shock to the conscience," the top prosecutor said after Uribe Cruz and Ramos were ordered held without bond on murder charges.
"After 30 years as a prosecutor, I thought I had seen and heard just about anything and everything when it comes to violent crime, but a case like this is something I have never seen before. This was not an armed robbery, This was a methodical slaughter."
Brown was also taken aback listening to details as Ramos and Uribe Cruz, who was wearing a Jay Cutler jersey in court, stood feet away.
The murders were an "act of barbarism that put the city on edge," the judge said.
Outside the Leighton Criminal Courthouse, a woman who described herself as Ramos' legal guardian, defended her slight "granddaughter" who she said was so frail, she can barely carry her baby.
"She could not even kill a fly," Lourdes Oliva said of Ramos. "She would have not killed anybody."
Uribe Cruz was physically abusive and controlling, Oliva said. Ramos could not wear make-up, take a shower or leave Uribe Cruz' parent's basement — where the couple lived — unless she was given permission, Oliva said.
Oliva said she once saw Uribe Cruz push Ramos.
Ramos, who wasn't accused of shooting or stabbing any of the victims, was probably "pressured" by Uribe Cruz, Oliva concluded.
But Alvarez said Ramos was hardly an innocent bystander.
The 5'2, 100 pound woman may not have used violence against the victims, but she had one of the boys Uribe Cruz eventually killed hold the bag with the stolen items because it was too heavy for her, authorities said.
Ramos aided and abetted Uribe Cruz and took the proceeds, which the couple had hoped to use to buy a car, prosecutors said.
In addition to the boys and 32-year-old Martinez, also killed were: Martinez's brother, 38-year-old Noe Martinez Jr. and the Martinezes' parents, 58-year-old Rosaura Martinez, and Noe Martinez Sr., 62.
Hours before, Uribe Cruz and Ramos socialized with the family for a bit when Uribe Cruz asked Maria Martinez to go upstairs so they could talk, Lisuzzo said, listing details from what the couple allegedly told police.
During the conversation, at which Ramos was present, Uribe Cruz, pulled out a small caliber gun and demanded Maria Martinez put money into a bag, Lisuzzo said.
Maria Martinez refused, and the two started fighting. That's when Uribe Cruz allegedly shot his former aunt in the head several times. He told police he closed his eyes when he fired at Maria Martinez's forehead, Lisuzzo said.
Hearing the shots, Noe Martinez Jr. came upstairs to help his sister. But it was too late. Uribe Cruz beat Noe Martinez Jr. with his gun and continued to punch and choke him, Lisuzzo said.
When Rosaura Martinez came up, hurled a picture frame at Uribe Cruz and threatened to call police, Uribe Cruz knocked her down the stairs, causing her to lose consciousness, Lisuzzo said.
Uribe Cruz then went downstairs to talk to the boys, grabbed two knives from the kitchen and stabbed Rosaura Martinez multiple times in the face, head and body while she was passed out on the floor, Lisuzzo said.
After asking the boys where they could find money, Ramos said she and Uribe Cruz ransacked the home for the goods, Lisuzzo said.
Uribe Cruz then coaxed Alexis into the basement and told police he "got [him] there with the same knife that I got the grandma," Lisuzzo said. Leonardo could hear his younger brother's screams and saw Uribe Cruz emerge upstairs alone.
Leonardo, who was shaking, asked what happened to his brother. Uribe Cruz told him that Alexis was fine and to go check to see if his grandpa was coming in, Lisuzzo said.
The older boy was stabbed in the abdomen and was found lying next to the fireplace.
Uribe Cruz was initially leaving the house before Noe Martinez Sr. arrived but realized the back fence locked, so he went back inside.
The eldest Martinez, who came home bearing the treats for his family, walked in to find Uribe Cruz bent down pretending to pick something up while holding a knife, Lisuzzo said.
Uribe Cruz then lunged at Noe Martinez Sr., stabbing him three times in the stomach, Lisuzzo said.
"Why are you killing me?" the man yelled out as he took his last breath. "I don't owe you anything."
Ramos allegedly told police she helped her boyfriend clean up the blood after the three generations of the Martinez family was killed. She mopped up while he washed his hands and both wiped down the door knobs, Lisuzzo said.
Ramos told detectives she didn't want to leave any evidence behind because she didn't want Uribe Cruz be taken away from her, Lisuzzo said.
Uribe Cruz told police he destroyed the gun and sold the stolen jewelry for $150 at a pawn shop, Lisuzzo said.
Ramos also said that they also got rid of the Xbox One, Lisuzzo said.
Uribe Cruz told his co-workers he had been jumped by three guys when he was asked about the visible cuts and scratches on his face.
But cellphone records show his mobile was at the crime scene at the time of the murders, Lisuzzo said.
Uribe Cruz's DNA was traced to blood found on a concrete step outside the home, on a post by the back door and in an area between the kitchen and porch, Lisuzzo said.
His DNA was also under the fingernails of Maria Martinez, prosecutors said.
Maria Martinez and the five others were discovered by police two days later after family and friends expressed concern over their lack of communication.
Neither Uribe Cruz nor Ramos, both of the 2300 block of South Ridgeway, have criminal backgrounds, although Ramos has a pending misdemeanor theft case in the suburbs.
Assistant Public Defender Margaret Domin said Uribe Cruz, who is a manager at an electronic component company, had to drop out of Little Village High School to take care of his family.
He has received training as a barber and has worked construction, mostly doing indoor remodeling, Domin said.
Ramos attended high school in California before returning to her family in Chicago, Domin said.
She has worked as cashier in the past but was currently devoting her time with her child, Domin said.