Third person dies of injuries from Tuesday's tornadoes across Illinois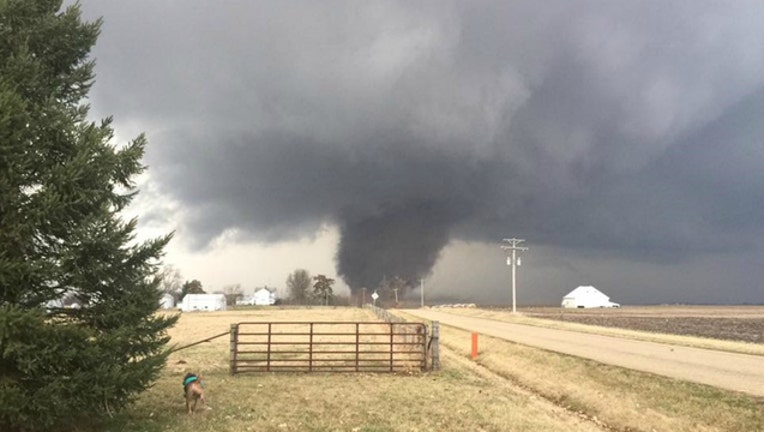 article
(SUN TIMES MEDIA WIRE) - At least seven tornadoes roared through northern and central Illinois Tuesday afternoon, leaving three people dead.
An uprooted tree struck 76-year-old Wayne Tuntland, Tuntland's son Toby Johnson and Johnson's husband, 31-year-old David A. Johnson, as they were working in a backyard in the 400 block of State Street in Ottawa, according to the LaSalle County coroner's office.
Tuntland was pronounced dead at the scene at 5:13 p.m., according to the coroner's office.
David Johnson suffered severe head trauma and was taken to OSF Saint Elizabeth Medical Center in Ottawa, then flown to OSF Saint Francis Medical Center in Peoria, where he died later Tuesday, according to the coroner's office.
Johnson's husband, Toby Johnson, was also taken to St. Elizabeth's in Ottawa, where he was treated and released Wednesday morning.
The LaSalle County Nursing Home in Ottawa was destroyed by a twister. Ten 10 people were treated for injuries when the storm struck the home with 68 residents inside. Five residents were treated for minor injuries on the scene, while five others were taken to a hospital.
"We got hit hard, but everyone including residents and staff are safe and accounted for. Your prayers are greatly appreciated," the nursing home posted on its Facebook page.
The American Red Cross set up a reception center at Ottawa High School for those displaced by the storms. Spokeswoman Joy Squier said they are also working to help make sure the nursing home residents are placed in other facilities, with their families or with others who can help give them shelter.
In southern Illinois, Thomas McCord, 71, was in front of his home at 1529 County Rd. 1800 North in Crossville when the tornado hit, said White County Coroner Chris Marsh. Authorities found him about 70 yards away in the field behind his home. He suffered blunt force trauma.
McCord's wife was inside the house and also injured, Marsh said. She was taken to a hospital, where she was treated and released. Crossville is a village of 745 people that sits near the Indiana state line.
Before Tuesday, there had only been one tornado reported in northern Illinois during the month of February since 1950, according to the National Weather service.
The largest hail of the storm, reported in Ottawa, was baseball-sized, according to the weather service.
Investigators have surveyed damage caused by three separate tornadoes so far. An EF-3 tornado, with peak winds at 155 mph, traveled about 11 miles across Naplate and Ottawa. In Oregon, an EF-1 tornado traveled about a mile and a half with wind speeds reaching about 95 mph. Another EF-1 tornado touched down in Ottawa with a top windspeed of 110 mph and traveled about a mile an a half.
The EF scale estimates the tornado's wind speeds based on the damage caused, according to Jamie Enderlen, a meteorologist with the National Weather Service. The scale ranges from 0, with low wind speeds, to 5, with strong wind speeds.
The storms prompted Gov. Bruce Rauner to activate the State Emergency Operations Center in Springfield to ensure state personnel and equipment could be quickly deployed if needed to help local emergency responders with public safety issues following "tornado touchdowns in several areas of Illinois."