Thousands protest Rauner's call to change labor laws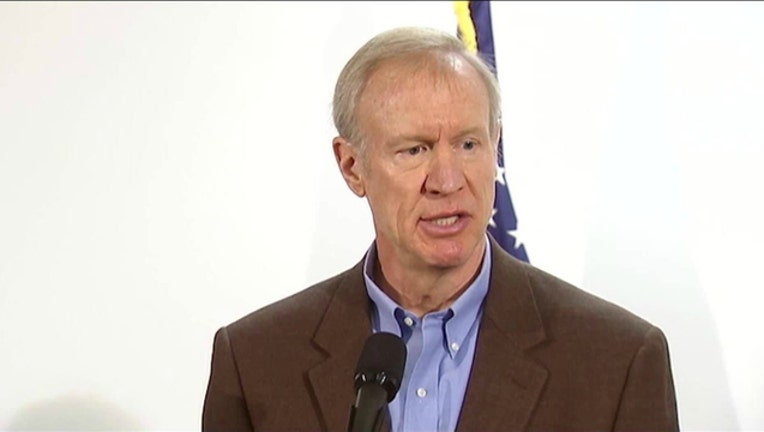 article
SPRINGFIELD, Ill. (AP) - Thousands of union supporters from across Illinois rallied in front of the state Capitol building Wednesday to protest Republican Gov. Bruce Rauner's call for changes to collective bargaining policies.
The protesters called for an end to a nearly yearlong stalemate on a state budget, pay raises and a new contract for the American Federation of State, County and Municipal Employees, the state's largest union representing Illinois workers.
The march, organized by a coalition of unions, Illinois Working Together, came days after Rauner vetoed a bill that would let an arbitrator settle state-employee wages and working conditions if talks stalled. The governor and AFSCME are making their cases before the state labor board to determine if those negotiations are at an impasse. The contract with the union, which represents 36,000 state workers, expired June 30.
Rauner said sending negotiations to an arbitrator would favor the union and strip away his power to represent taxpayers on a new labor agreement with state workers.
The bill's sponsor, Democratic Rep. Emanuel Chris Welch, said he plans to bring the measure for an override vote because he is confident there is enough support in the House to do so. The proposal needs 71 House and 36 Senate votes to override Rauner's decision.
Coalition co-chair and Chicago Federation of Labor President Jorge Ramirez said Rauner's proposals "would diminish wages, destroy worker protections, and completely wipe out what is left of the middle class here in Illinois."
Rauner has made curbing the power of unions one of his top priorities while in office, saying changes are needed to improve the state's business climate and save money.
The Rauner administration has reached contract agreements with at least 17 unions that represent over 5,000 state workers, including a recent four-year collective bargaining agreement with the Illinois Federation of Teachers.
Rauner said the agreement "is a testament to what can be accomplished when both sides are willing to compromise and negotiate in good faith."
Democratic leaders House Speaker Michael Madigan and Senate President John Cullerton spoke briefly at the rally, assuring the crowd they are supporting unions and their interests during what Madigan called the "epic struggle against Gov. Rauner."
"The governor thinks you make too much money," Cullerton said. "That's our problem. So all I can tell you is, we're gonna stay tough; we're gonna fight for your interests and the middle class in the next two weeks."
However, Illinois Chamber of Commerce President Todd Maisch said the state's budget crisis is the result of years of unbalanced budgets. He said the way to solve the problem is by implementing "pro-growth reforms," which include changing the workers' compensation system, freezing property taxes and tort reform.
Long-time state employee and AFSCME member Sally Agnew said during the march that the governor's union reform items unfairly burden workers with the state's problems.
One measure heading to the governor's desk concerning state employees includes a bill calling for a minimum wage increase to at least $15 an hour for people unionized by Service Employees International Union Healthcare Illinois.
Republican lawmakers said measures that increase wages for state workers, while a worthy cause, should not precede efforts to pass a state budget because Illinois does not have the money to sustain these efforts.