Truck rams into German Christmas market, killing 12 people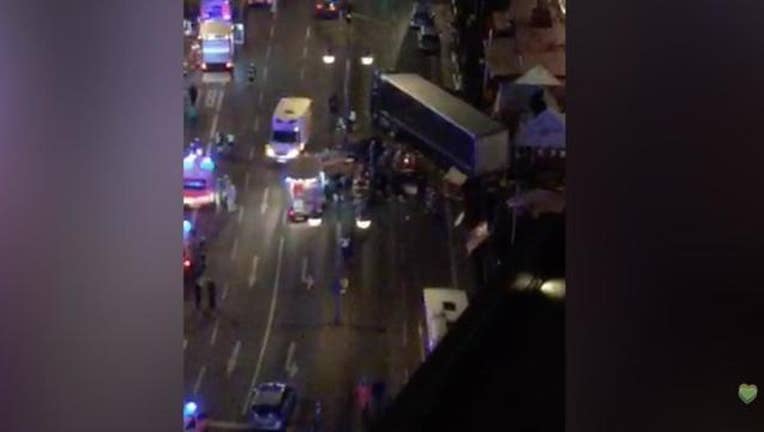 article
BERLIN (AP) — A truck rammed into a crowded Christmas market in central Berlin on Monday evening, killing 12 people and injuring nearly 50 as it smashed through tables and wooden stands. Police said a suspect believed to be the driver was arrested nearby and a passenger died as paramedics were treating him.
The popular Christmas market outside the Kaiser Wilhelm Memorial Church was filled with a mix of tourists and locals when the large Scania truck hurtled into it. Germany's top security official said initial evidence pointed to an intentional act, and the White House condemned "what appears to have been a terrorist attack."
Police said early Tuesday that 48 people were in hospitals, some of them with serious injuries.
Mike Fox, visiting from Birmingham, England, told The Associated Press that the truck missed him by about three meters (yards). Fox said he helped people who appeared to have broken limbs, and that others were trapped under Christmas stands.
"You do what you can to help who you can, really. It happened so fast that there was nothing we could do to stop it — if we'd tried to stop it we would have been crushed," Fox said.
The truck, which was loaded with steel beams, came to a halt on a sidewalk on one side of the market. It had just rammed a large stand called "Fascination Christmas," tearing off one side and knocking down a large Christmas tree. The three-meter tree lay in the street, red and gold ornamental balls still attached to its limbs and a golden star at the top.
The crash came less than a month after the U.S. State Department called for caution in markets and other public places across Europe, saying extremist groups including Islamic State and al-Qaida were focusing "on the upcoming holiday season and associated events."
The Islamic State group and al-Qaida have both called on followers to use trucks in particular to attack crowds. On July 14, a truck plowed into Bastille Day revelers in the southern French city of Nice, killing 86 people. Islamic State claimed responsibility for that attack, which was carried out by a Tunisian living in France.
Following that attack there were calls to block off and better protect high-profile public gatherings. There were no barriers around the Christmas market on Monday.
After the attack, dozens of ambulances lined the streets waiting to evacuate people, and heavily armed police patrolled. Authorities on Twitter urged people to stay away from the area, saying they need to keep the streets clear for rescue vehicles.
Among the dead was a passenger in the truck, who succumbed as paramedics treated him, Berlin police spokesman Winfried Wenzel said. Police said later that the man was a Polish national, but didn't give further details of who he was or what happened to him.
A suspect believed to be the driver was picked up about 2 kilometers (1½ miles) away, near the Victory Column monument. He was being interrogated, Wenzel said. The truck was registered in Poland, and police said it was believed to be stolen from a building site there. They didn't give a specific location.
The Polish owner of the truck said he feared the vehicle, driven by his cousin, may have been hijacked. Ariel Zurawski said he last spoke with the driver around noon, and the driver told him he was in Berlin and scheduled to unload Tuesday morning. "They must have done something to my driver," he told TVN24.
Federal prosecutors, who handle terrorism cases, took over the investigation, according to German Justice Minister Heiko Maas. In Washington, White House National Security Council spokesman Ned Price said the United States was in contact with German officials and ready to help in the investigation and response.
U.S. President-elect Donald Trump blamed Islamist terrorists, though it was unclear what that assessment was based on. He said Islamic extremists must be "eradicated from the face of the earth" and pledged to carry out that mission with all "freedom-loving partners."
But German officials said it was too early to call the crash intentional.
"I don't want to use the word 'attack' yet at the moment, although a lot speaks for it," Interior Minister Thomas de Maiziere told ARD television. "There is a psychological effect in the whole country of the choice of words here, and we want to be very, very cautious and operate close to the actual investigation results, not with speculation."
Even so, some politicians were pointing fingers. Marcus Pretzell, a prominent member of the anti-migration Alternative for Germany party, lashed out at the government of Chancellor Angela Merkel, saying on Twitter: "When will the German state of law strike back? When will this cursed hypocrisy finally stop? These are Merkel's dead! #Nice #Berlin."
Germany has not experienced any mass-casualty attacks by Islamic extremists, but has been increasingly wary since two attacks by asylum-seekers in the summer that were claimed by the Islamic State group. Five people were wounded in an ax rampage on a train near Wuerzburg and 15 in a bombing outside a bar in Ansbach, both in the southern state of Bavaria. Both attackers were killed.
Those attacks, and two others unrelated to Islamic extremism in the same weeklong period, helped stoke tensions in Germany over the arrival last year of 890,000 migrants.
___
Associated Press writers David Rising, Geir Moulson and Frank Jordans in Berlin and Lori Hinnant in Paris contributed to this report.
___
This story was corrected to show the truck owner's name is Zurawski.