Trump hosting rally with 'favorite deplorables' in Michigan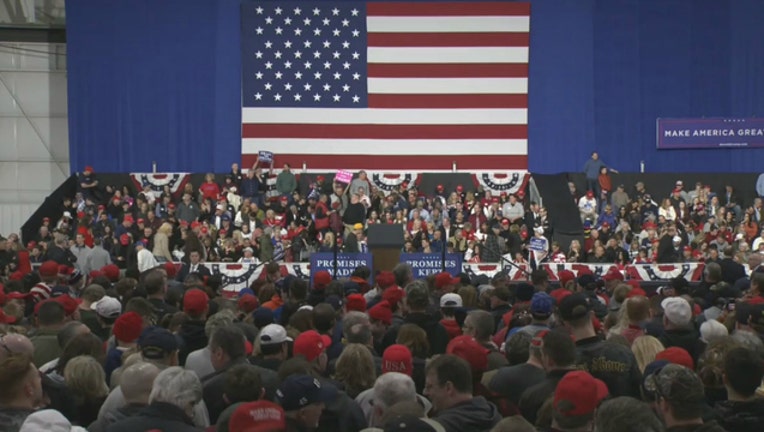 article
WASHINGTON (AP) -- President Donald Trump was betting on a big crowd and a friendly reception at a Saturday evening rally in Michigan -- one of the states in the Upper Midwest that Hillary Clinton counted on in 2016 but saw slip away.
In fact, Trump was the first Republican presidential nominee to capture Michigan since George H.W. Bush in 1988.
"Look forward to being in the Great State of Michigan tonight," Trump said in a tweet hours before the event in Washington Township, Michigan, which is about 40 miles north of Detroit.
He also tweeted: "Major business expansion and jobs pouring into your State. Auto companies expanding at record pace. Big crowd tonight, will be live on T.V."
Also scheduled to air on cable television Saturday night was a Washington tradition that Trump says he's happy to skip: The White House Correspondents' Association dinner.
Trump said in a fundraising pitch that he had come up with something better than being stuck in a room "with a bunch of fake news liberals who hate me."
He said he would rather spend the evening "with my favorite deplorables."
During the 2016 campaign, Clinton drew laughs when she told supporters at a private fundraiser that half of Trump supporters could be lumped into a "basket of deplorables" -- denouncing them as "racist, sexist, homophobic, xenophobic, Islamophobic, you name it." 
Clinton later did a partial rollback, said she had been "grossly generalistic" and regretted saying the label fit "half" of Trump's supporters. But she didn't back down from the general sentiment.
Trump soon had the video running in his campaign ads, and his supporters wore the "deplorable" label as a badge of honor.
Macomb County, the site of Trump's rally, is among the predominantly white counties known as a base for "Reagan Democrats" -- blue-collar voters who abandoned the Democratic Party for Ronald Reagan, but who can be intriguingly movable.
Democrat Barack Obama won the county twice in his White House runs, then Trump carried it by more than 11 percentage points.