Trump jabs fly at Oscars, awards go to Ali, Davis, 'O.J.'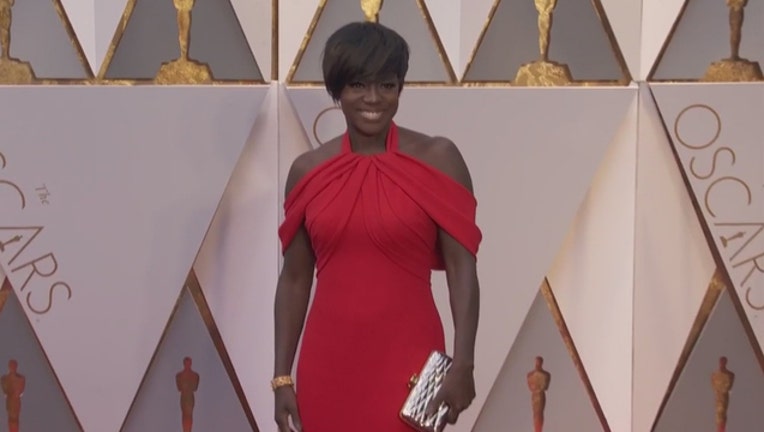 LOS ANGELES (AP) - The Jimmy Kimmel-hosted 89th Academy Awards seesawed between jabs at Donald Trump and passionate arguments for inclusivity, with early awards going to Viola Davis and Mahershala Ali.
The show kicked off with Justin Timberlake dancing down the Dolby Theatre aisles, singing his ebullient song, "Can't Stop the Feeling," from the animated film "Trolls." It was an early cue that the Oscars would steer, at least in part, toward festiveness rather than heavy-handed politics. Protests, boycotts and rallies have swirled ahead of Sunday night's Oscars. But host Kimmel, in his opening monologue, quickly acknowledged that he "was not that guy" to heal a divided America.
Kimmel instead struck an irreverent but sarcastic tone, singling out Meryl Streep, whom President Donald Trump derided as "overrated" after her fiery Golden Globes speech last month. Listing some of her credits, Kimmel said Streep has "phoned it in for over 50 films." He led a standing ovation for the "overrated" actress before adding a pointed punchline: "Nice dress, by the way," he said. "Is that an Ivanka?"
The host then predicted Trump was sure to tweet about the night's awards at 5 a.m. "during his bowel movements."
The wins for Davis, who co-starred in Denzel Washington's August Wilson adaptation "Fences," and Ali, were both widely expected. Their wins marked the first time that multiple Oscar acting awards went to black actors in more than a decade.
"I became an artist, and thank god I did, because we are the only profession to celebrate what it means to live a life," said Davis, the best supporting actress winner. "So here's to August Wilson, who exhumed and exalted the ordinary people."
Ali won best supporting actor for "Moonlight." He glowed on the stage as he informed the crowd that he and his wife, Amatus Sami-Karim, welcomed a daughter four days earlier. The actor thanked his wife for "being such a soldier through the process."
Neither struck a political tone in their speeches. Instead the most powerful political moment perhaps came from a winner not in attendance. Best foreign film for the second time went to Asghar Farhadi, director of Iran's "A Salesman." Farhadi, who also won for his "A Separation," had said he wouldn't attend because of Trump's travel band to seven predominantly Muslim nations. Anousheh Ansari, an Iranian astronaut, read a statement from Farhadi.
"I'm sorry I'm not with you tonight," it read. "My absence is out of respect for the people of my country and those of other six nations who have been disrespected by the inhumane law that bans entry of immigrants to the U.S."
Most expect the night to be dominated by Damien Chazelle's celebrated musical "La La Land," up for a record-tying 14 nominations. But its night started off with an upset, with the film losing out on costume design to the Harry Potter spinoff "Fantastic Beasts and Where to Find Them."
Ezra Edelman's "O.J.: Made in America" took best documentary, making it - at 467 minutes - the longest Oscar winner ever, beating out the 1969 Best Foreign Language Film winner "War and Peace" (431 minutes). Edelman's documentary, while it received an Oscar-qualifying theatrical release, was seen by most on ESPN as a serial, prompting some to claim its place was at the Emmys, not the Oscars.
Edelman dedicated the award to the victims of the famous crime, Nicole Brown Simpson and Ronald Goldman.
"This is also for other victims, victims of police violence, police brutality," Edelman said. "This is their story as it is Ron and Nicole's."
The "OscarsSoWhite" crisis of the last two years was largely quelled this season by a richly diverse slate of nominees, thanks to films like "Moonlight," ''Fences" and "Hidden Figures." A record six black actors are nominated. For the first time ever, a person of color is nominated in each acting category. And four of the five best documentary nominees were also directed by black filmmakers.
"I want to say thank you to President Trump," Kimmel said in the opening. "Remember last year when it seemed like the Oscars were racist?"
The nominees follow the efforts by Academy of Motions Pictures Arts and Sciences President Cheryl Boone Isaacs to diversify the membership of the largely white, older and male film academy. In June, the academy added 683 new members: 46 percent of them were female; 41-percent were nonwhite; and they pulled from 59 countries.
"Tonight is proof that art has no borders, no single language and does not belong to a single faith," said Isaacs.
The academy is hoping to improve on last year's telecast. The Chris Rock-hosted show drew 34.4 million viewers, an eight-year low.
Politics had taken the spotlight ahead of Hollywood's big night. On Friday, the United Talent Agency, forgoing its usual Oscar party, instead held a rally protesting Trump over immigration. "We will not tolerate chaos and ineptitude and war-mongering," Jodie Foster told attendees.
The six directors of the foreign film nominees released a joint statement condemning "the climate of fanaticism and nationalism we see today in the U.S. and in so many other countries."
U.S. immigration authorities are also barring entry to a 21-year-old Syrian cinematographer who worked on the documentary short nominee "The White Helmets," about the nation's civil war.
___
Associated Press writer Beth Harris contributed to this report.