Trump says Spain should stay united, opposes secession vote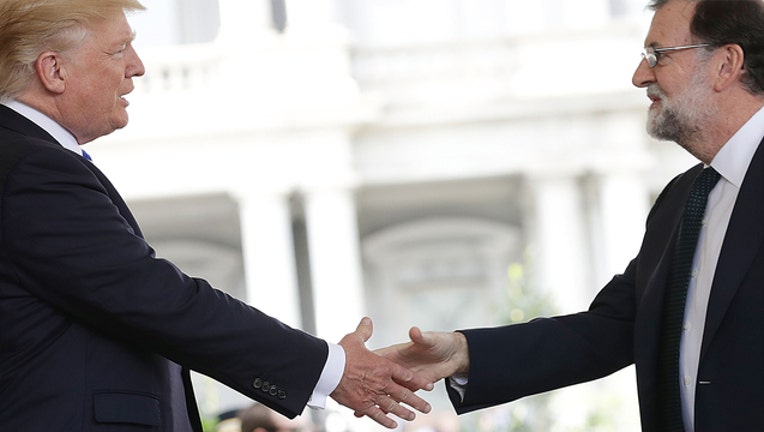 article
WASHINGTON (AP) — President Donald Trump said Tuesday that Spain should stay united, branding as "foolish" a looming secession vote by one of the country's regional governments.
"I think that Spain is a great country and it should remain united," Trump said at a news conference following White House talks with Spanish Prime Minister Mariano Rajoy. "We're dealing with a great, great country and it should remain united."
Trump said he's been watching the situation unfold in the region of Catalonia, whose leaders have vowed to hold a referendum Sunday on independence from Spain. Spain's central government says such a vote would be illegal.
"I can say only, speaking for myself, I would like to see Spain continue to be united," Trump said when asked about the referendum, which is challenging Rajoy's leadership.
Rajoy called the situation "just crazy" and said a referendum cannot be held because no one in the Catalan government is organizing it. He said the issue is causing division and heightening tensions in Spain.
"I want this to be resolved as soon as possible and I want us to go into a new stage where the rule of law, dialogue and common sense will prevail," Rajoy said.
Trump didn't answer directly when asked later what advice he offered Rajoy on the issue, but said he thinks the people of Catalonia, which includes Barcelona, would stay with Spain.
"I bet you if you had accurate numbers and accurate polling, you'd find that they love their country, they love Spain and they wouldn't leave, so I'm just for a united Spain," Trump said. "I really think the people of Catalonia would stay with Spain. I think it would be foolish not to, if you're talking about staying with a truly great, beautiful and very historic country."
Trump also offered prayers and support to those affected by deadly attacks last month that killed 16 people in Barcelona and a nearby town. The Islamic State group claimed responsibility.
"I want to assure the people of Spain that America stands with you in confronting this evil that threatens all of humanity," Trump said. "We will continue to deny the terrorists their funding, their territory, and any form of support for their wicked ideology."
Trump had said earlier Tuesday that the U.S. and Spain are allies in the fight against terrorism, saying they share notes and intelligence. He also thanked Spain at the news conference for contributing to a coalition of nations working to defeat IS, including training more than 30,000 members of the Iraqi security forces.
Rajoy said he told Trump that Spain would increase its commitment by contributing a new financial package to help rebuild Iraq.
___
Follow Darlene Superville on Twitter: http://www.twitter.com/dsupervilleap