Up to 5 inches of snow Friday will make for slippery evening commute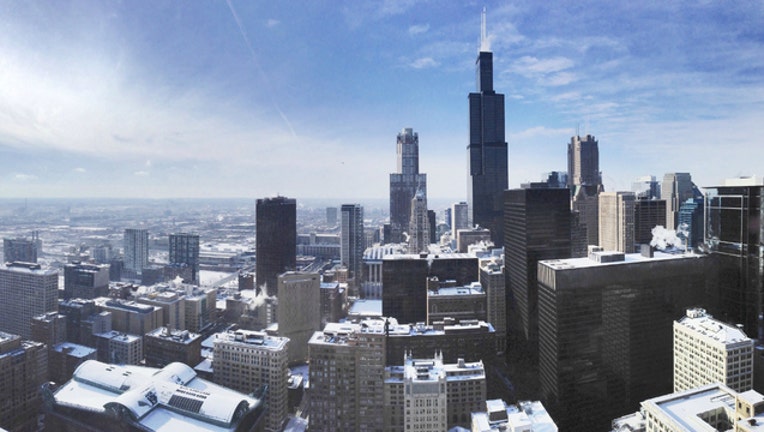 article
SUN-TIMES MEDIA WIRE - A winter weather advisory was in effect Friday afternoon for much of the Chicago area as snowy, cold conditions are expected to affect the evening commute.
Friday's forecast calls for snowfall between 3 and 5 inches with wind chills that could dip between 10-to-20 degrees below zero, the weather service said. The advisory, which affects Cook, Winnebago, Boone, Ogle, DeKalb and Kane counties, will remain in effect until 9 p.m.
Conditions could be right for a slippery evening commute, the weather service said. Drivers should also expect reduced visibility at times.
From 2 p.m. to 7 p.m., areas north of Interstate 80 are expected to receive about a half inch of snow per hour, according to the National Weather Service. Areas south of I-80 could to be hit with about three-quarters of an inch of snow every hour in that same span.
The Illinois Tollway is mobilizing its full fleet of 196 snowplows in response to Friday's snowfall. In addition, crews from the Chicago Department of Streets and Sanitation were spreading salt across the city.
A high of 15 degrees was forecast for Friday, with a low around 3 degrees. The high temperature Saturday was only expected to reach 5 degrees.
The frigid conditions are expected to continue into next week, with temperatures expected to fall below zero on New Year's Eve and New Year's Day, the weather service said.
The Chicago Department of Public Health recommends stocking up on at least three days' worth of water and canned food, as well as blankets, emergency medical supplies and a flashlight with spare batteries.
Chicagoans should also layer clothing, limit their time outside and avoid long trips on the road, according to the CDPH.
"As the city braces for cold temperatures and winter weather, we would like to caution residents to take care of themselves, and to also provide assistance to your neighbors, family members, pets and friends, particularly those who are elderly or have disabilities," CDPH Commissioner Julie Morita, M.D. said. "By working together we can make sure we all stay warm, safe and healthy this season."
Several warming centers are dedicated for residents to find refuge from the cold. The warming centers are open between 9 a.m. and 5 p.m. Monday through Friday at:
Englewood Center, 1140 W. 79th St.
Garfield Center, 10 S. Kedzie Ave.
King Center, 4314 S. Cottage Grove Ave.
North Area, 845 W. Wilson Ave.
South Chicago, 8650 S. Commercial Ave.
Trina Davila, 4312 W. North Ave.