Wedding party rescued from rising floodwaters in Texas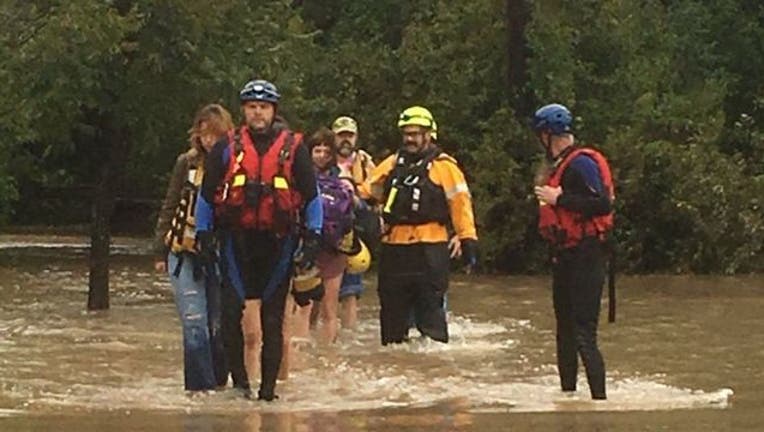 FOX News -- Dozens of people in a wedding party had to be rescued on Saturday after they became trapped by quickly-rising floodwaters outside a venue in Texas.
The Austin Fire Department said on Twitter that more than 60 people were rescued from the overnight venue called Casa Rio De Colores, located about 30 miles northwest of Austin near Liberty Hill.
Some of the guests who were staying in tents outside were forced into trees as they fled the rising waters, while others were able to make it on their own to higher ground.
Tony Barile, who traveled to Texas from Virginia to watch his son get married, told KXAN-TV he received an alert on his phone about 2 a.m., and that the water "came up so quick."
"Yesterday, we had a dinner, rehearsal dinner, had a nice time going [Friday night]," he said. "Everybody's staying down at the lodge down here, closer to the river."
Bret and Genevieve Britton, who were among the guests who were sleeping in their tents, told the television station they had to cut the tent to get out and hold onto a tree.
"Just as we were getting settled on the air mattress in the tent, we realized it was starting to float and then very quickly the poles of the tent collapsed in," Bret told KXAN. "And we were unable to open the regular flap to get in and out, or even find the door, actually. It was the whole tent that caved in on us."
The fast-moving floodwaters swept away tents, personal belongings, and even vehicles.
The facility, located on the South Gabriel River, boasts online about the "pristine, spring-fed river is perfect for swimming, canoeing, fishing, tubing, and relaxing."
No injuries were reported, and all guests were able to be evacuated, according to FOX7. It was not clear if the wedding on Saturday went on as planned.