'Wheel of Fortune' host Pat Sajak scolded by Vanna White for cruel prank
LOS ANGELES - Pat Sajak is under fire yet again for his antics on "Wheel of Fortune," and this time, Vanna White is the one taking issue with his actions.
On Friday night's episode, Sajak took some time at the end of the show to speak with White, and he mentioned that his wife, former model Lesly Brown, was celebrating her birthday. He also revealed that he enjoys playing the same prank on her every year as she blows out the candle on her cake.
"I do this … this thing I do every one of Lesly's birthdays and she absolutely hates it," he laughed.
"We put a cake in front of her, she closes her eyes, she makes a wish, and when she blows out the candle, I clutch my heart and fall to the ground."
Sajak said that his wife never finds his heart attack prank funny.
"She never finds that amusing, I don't understand" he told White, who looked out at the audience with a grimace.
"Don't you find that funny?" he asked her.
"No," she told him sternly without a trace of a smile on her face.
"OK," he laughed, turning back to the audience as the credits finished rolling.
SUBSCRIBE TO FOX 32 CHICAGO ON YOUTUBE
Although White is not usually the one doing the criticizing, the "Wheel of Fortune" host is no stranger to receiving backlash.
Earlier this month, there was a huge uproar from fans who were convinced that Sajak robbed a contestant of the big $100,000 prize.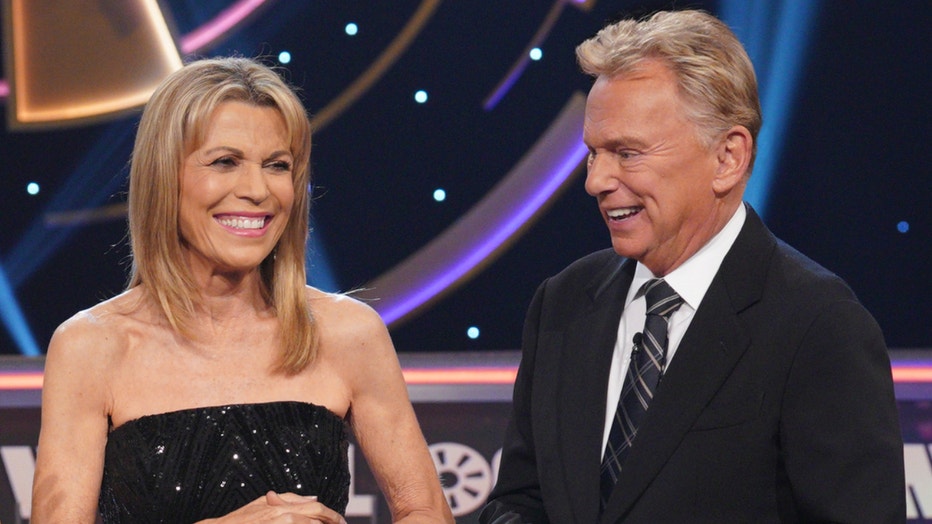 Pat Sajak and Vanna White, Celebrity Wheel of Fortune (Christopher Willard ABC via Getty Images)
When that contestant, Alexa, headed into the bonus round, she was given the category "What Are You Doing?"
After choosing her letters, White flipped over some blocks on the board, and Alexa was left with "__ST _IN_IN_ IT."
"I don't know," Sajak told her somberly. "Will it be enough? 'Cause that's all you're getting."
Alexa immediately began shouting out answers, phrases like "Must Winning It" and "Best Winning It," but the buzzer went off, and she officially lost the round.
"You know, the N's were gone and what we had, you were right there," Sajak told her, and the crowd began to boo loudly.
RELATED: Sajak yells at contestant a day after going viral for tackling winner
Alexa's first guess was "Just Winning It," but many viewers heard her say "Just Winging It," which was the correct answer.
After she said that, Sajak said "Say —," but she cut him off with her continued guesses. He could have been requesting that she repeat her answer. Ultimately, Sajak and the judges decided she did not give the right response.
One viewer took to Twitter to write, "I'm absolutely certain that the first thing she said was 'Just winging It.' You owe that young woman an apology and $100,000!"
"I agree that she said the right answer I think they cheated her," someone else replied.
"She said it!!!!" a fan insisted. "Looks like Pat started to say 'Say it again' but stopped. You can tell she is confused it wasn't right. And her final expression when it was revealed was 'Wait I said that.'"
Last month, Sajak was criticized for yelling at a contestant to "solve the darn puzzle," and it will be a very long time before fans forget the episode in which he tried to put a wrestler in a headlock.