After an uncertain summer, Bickell is back with Blackhawks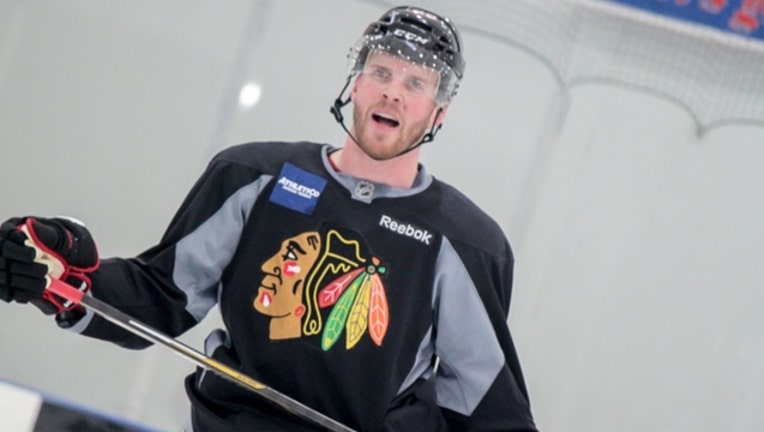 article
SOUTH BEND, Ind. (AP) — Brandon Saad is gone. Same for Patrick Sharp and Kris Versteeg. Brad Richards signed with Detroit. Antoine Vermette returned to Arizona.
The Chicago Blackhawks have to find a way to replace that lost production, and Bryan Bickell might be a good place to start.
The rugged forward is back with the Stanley Cup champions after a summer full of rumors indicating he was on the block while general manager Stan Bowman negotiated a tricky salary-cap crunch. When the dust settled — Versteeg was traded to Carolina on Sept. 11 — Bickell was still wearing his usual red and black sweater, and looking for a comeback season.
"Chicago still wants me and then to be here and to have this moment and I just need to have a big year," Bickell said during training camp.
Bickell was a beloved figure in Chicago after the Blackhawks won the Stanley Cup in 2013. He had nine goals and 17 points in the playoffs that year, including the tying goal late in their championship-clinching victory at Boston.
He was all set to cash in as an unrestricted free agent, but opted to stay with Chicago for a $16 million, four-year deal — a big raise, but likely less than he would have made on the open market. Even so, he is still looking to deliver on that big contract.
"You'd like to find that consistency in his game," coach Joel Quenneville said. "If he puts that all together, he's that power forward that every team craves for. We've seen him have some good games, some good stretches in the playoffs. Regular season, in games there's some good moments. But total package is what we're looking for."
The 29-year-old Bickell had one 10-game stretch last season with 10 points, but he finished with 14 goals and 14 assists in a career-best 80 games.
Then came the playoffs, and he managed just five assists in 18 games. He missed most of the Stanley Cup against Tampa Bay because of vertigo.
"Playing to the conference finals and then couldn't play in the finals, it was mentally tough," he said. "You just want to be out there."
The vertigo followed Bickell around for much of the offseason, too, frustrating the 6-foot-4, 233-pound winger. Every time he felt as if he were getting better, the symptoms returned.
"I think these last couple weeks we're taking the right steps and I just need to stick with the system that's working and hopefully it doesn't have to take a couple steps backwards," he said after the first day of camp at Notre Dame. "Just keep moving forward."
That is good news for Chicago, which lost two of its best left wings when they traded Saad and Sharp. A solid year by Bickell, who was drafted by the Blackhawks in 2004 and made his NHL debut with the team in April 2007, could go a long way to make up for that void on the left side.
"You don't want to leave a team like this, what we've been through and where I've started in this system, as a team," Bickell said. "Hopefully I can stay here my whole career. If that was written down on paper right now, I would take that for sure."
___
Jay Cohen can be reached at http://www.twitter.com/jcohenap