Anisimov scores late in 2nd, Blackhawks beat Rangers 2-1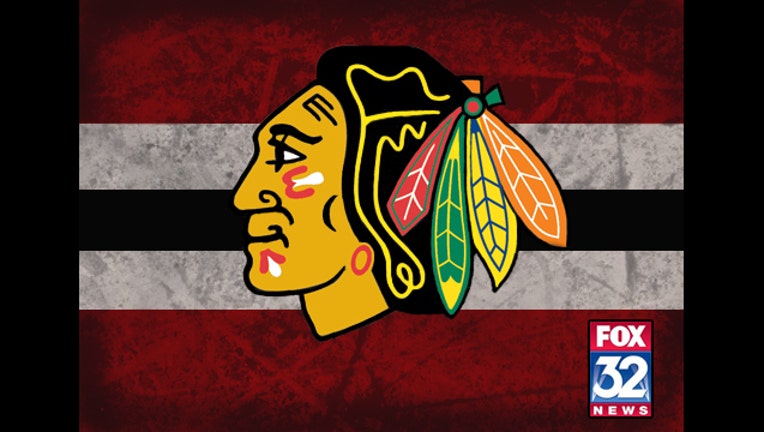 article
NEW YORK (AP) - Artem Anisimov scored the tie-breaking goal late in the second period to lead the Chicago Blackhawks over the New York Rangers 2-1 on Tuesday night.
Trevor van Riemsdyk also scored as the Central Division leaders improved to 3-0-1 in their last four games. Scott Darling stopped 33 shots, upping his record to 7-2-2.
Artemi Panarin had two assists and Anisimov had one as Chicago got even with New York following a 1-0 overtime loss at home to the Rangers last Friday.
Jesper Fast scored for the Rangers and Antti Raanta, starting for the fourth straight game, made 24 saves. Raanta had won three consecutive starts, including shutouts in the last two. New York had won four of its last five.
Blackhawks captain Jonathan Toews was activated from injured reserve earlier in the day after missing nine games with an upper-body injury.
The Rangers had some chances in the final minutes, but Darling stopped Mats Zuccarello's slap shot with about 3 minutes to go, and then a tip-in attempt by Jimmy Vesey less than a minute later.
Anisimov put Chicago ahead for good with 1:09 left in the middle period. As Brian Campbell skated past the left side of the net he sent a centering pass in front to Anisimov, who fired it past Raanta for his 13th goal.
After a scoreless first period, Chicago got on the scoreboard at 5:18 of the second as Panarin skated toward the net on the left side and sent a pass across to van Riemsdyk, who wristed it past Raanta for his first of the season. It ended Raanta's shutout streak of 176:22.
The Rangers tied it less than 3 minutes later as Fast, standing at the left side of the net, had the puck coming from behind the cage deflect up off his body and he then batted it in out of the air for his third at 8:15.
Vesey had a chance for the Rangers on a rush minutes before Chicago's goal, but Darling made a nice pad save on his attempt.
Raanta then denied Patrick Kane's wraparound attempt with about 9 minutes left in the second.
The Blackhawks outshot the Rangers 11-7 in a tight first period.
Raanta made some nice stops during an early Chicago power play, stopping two slap shots by Duncan Keith and then a slap shot by Patrick Kane and a follow-up wrister by Anisimov. Raanta also made a pad save on Richard Panik and then dove on the puck with about 9 minutes left.
Darling stopped a slap shot by Marek Hrivik and an attempt by Oscar Lindberg near midway through the first, and then denied Kevin Klein on a slap shot late in the period.
NOTES: Toews had four goals and eight assists in 21 games before he was injured in Chicago's 2-1 loss at San Jose on Nov. 23. The Blackhawks were 5-2-2 in his absence. The 28-year-old center has no points in his last six games, and just two assists in his last nine. ... Chicago starting goalie Corey Crawford has missed the last six games after an appendectomy on Dec. 3. He started 20 of the first 25 games, going 12-6-2 with two shutouts and a 2.27 goals-against average. ... Campbell's assist on Anisimov's goal was his 16th assist and 20th point in 40 games against the Rangers. ... New York starting goalie Henrik Lundqvist was the backup in a fourth consecutive game for the first time in his career. ... The Rangers were without D Ryan McDonagh due to an illness. He was replaced in the lineup by Adam Clendening. ... Rick Nash missed his fourth straight game due to a groin injury. Rangers coach Alain Vigneault was optimistic about getting Nash back soon. "I think he's looking good," Vigneault said after the team's morning skate. "I would say he's very, very close."
UP NEXT
Blackhawks: At the New York Islanders on Thursday night in the middle game of a three-game trip.
Rangers: At the Dallas Stars on Thursday night in the opener of a two-game trip.