Arrieta skipping White House trip, cites family reasons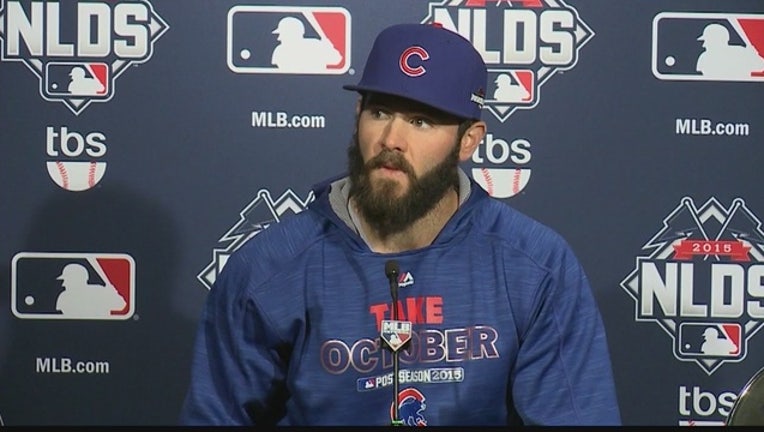 article
CHICAGO (AP) - When the World Series champion Chicago Cubs visit President Barack Obama at the White House on Monday, star pitcher Jake Arrieta won't be with them.
Arrieta said he needs to be home - his mother-in-law is recovering from brain surgery, son Cooper is having a tooth pulled that day.
The decision, Arrieta insists, has nothing to do with politics.
A day after Donald Trump beat Hillary Clinton in the presidential election, Arrieta tweeted it was "Time for Hollywood to pony up and head for the border." The ace offered to help with the packing, too.
Arrieta, who said he didn't vote, on Friday suggested his message in November was misinterpreted.
"I was simply calling out people that said they were going to leave the country if Trump was elected," he said before the start of the team's annual winter convention. "It's not a pro-Trump tweet. It's not an anti-Hillary tweet. I don't care who the president is. I want whoever's president to do a good job."
"People view us as athletes as being Republican and only caring about lower taxes, which isn't the case," he said. "If paying higher taxes is going to benefit the majority of society, I'm fine with that. ... I'll be open and honest. I just want somebody to lead our country and do a good job. Whether it's Obama, whether it's Trump or Hillary, I just want to see somebody do a good job for the benefit of everybody."
So while his teammates attend the ceremony with Obama - a noted White Sox rooter - Arrieta will be absent. The visit will come during Obama's final week in office; the Series champs usually stop by the White House the following season.
"I won't be on that trip. I would like to, but I've got some other things I've got to handle," he said.
As the Cubs' delirious fans gathered at a downtown Chicago hotel for another celebration of the team's first World Series title since 1908, Arrieta's representatives and the club put the finishing touches on a $15,637,500, one-year contract, avoiding arbitration.
But there were no signs that the sides were any closer on a multiyear deal that would keep Arrieta in Chicago beyond this season.
"There's certainly a chance that he could be here beyond next year, but we don't have any ongoing talks or anything specific scheduled," president of baseball operations Theo Epstein said. "But I'm sure it will come up at some point."
Arrieta blossomed after he was acquired in a 2013 trade with Baltimore, a lopsided deal that turned into a key moment in Chicago's turnaround from the bottom of the standings to its first championship since 1908. He won the NL Cy Young Award in 2015 and is 54-21 with a 2.52 ERA in three-plus seasons with the Cubs.
Arrieta, who is represented by Scott Boras, could be one of the top free agents next winter. But he also turns 31 in March, possibly giving the Cubs pause when it comes to making the type of financial commitment it would take to prevent him from testing the market. Chicago also is looking at potentially costly deals for some of its top young position players in the coming years.
"The timeline is kind of coming to an end, as far as, you know, leading up to free agency," Arrieta said, "so I don't know. I'm here for one more year and I said it a couple years ago that I'm going to be a Cub for at least two more years and I'm going to enjoy every moment of it.
"If something happens where an extension is possible, then we'll address that when it happens. But as of now, we got one more season as a Cub and I'm really happy about that."
The Cubs also announced one-year deals for right-handed relievers Hector Rondon ($5.8 million) and Justin Grimm ($1,825,000), and former catcher David Ross is joining the front office as a special assistant. Ross retired after playing a key role in last year's championship.
The club exchanged arbitration numbers with Pedro Strop, with the team offering $4.6 million and the reliever countering at $6 million. But there is optimism about a deal being reached soon.
"Ran out of time on that one, but we expect to get something done," Epstein said.
___
Jay Cohen can be reached at http://www.twitter.com/jcohenap