Baez's bunt single lifts Cubs past Nationals in 10 innings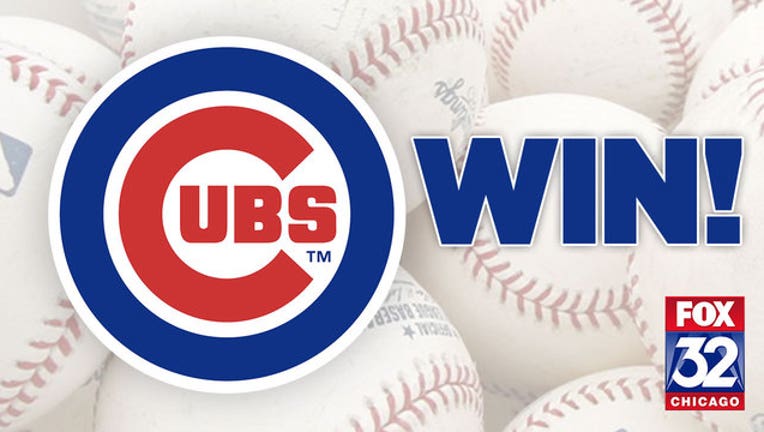 article
WASHINGTON (AP) - The Chicago Cubs got nearly everything they wanted out of their day trip to Washington to face the Nationals, and Javier Baez was in the middle of nearly all of it.
Reliever Pedro Strop's hamstring injury while running the bases was a notable exception.
Baez delivered the go-ahead run with a bunt single in the 10th inning as Chicago beat Washington 4-3 in a makeup of a game postponed earlier in the week. Baez, an MVP candidate, also homered and drove in three runs. He has 31 homers and leads the NL with 103 RBIs.
Chicago stretched its lead in the NL Central to 1½ games over idle Milwaukee. Washington fell 8½ games behind Atlanta in the NL East.
"I think that got us right back on track," Baez said. "Everybody's hitting the ball really good. I think we're going to take off soon."
Strop (6-1), who pitched 1 2/3 scoreless innings, was set to pitch the 10th after the Cubs took the lead and was allowed to bat with the bases loaded and one out. In his second at-bat of the season, he hit a sharp double-play grounder to third and pulled up while running to first.
Cubs manager Joe Maddon said Strop would undergo an MRI and was unlikely to be available Friday.
"Everything that happened in that game, how hard we fought to win that game? Exhilarating," Maddon said. "But losing him at that point, possibly or probably for a bit, takes a little bit of the exultation out of it. It's tough. It was tough to watch him pull up."
Strop has served as Chicago's closer since Brandon Morrow was placed on the disabled list on July 18. He is 11 of 13 in save situations in that span and has 13 saves on the season. Strop, who lowered his ERA to 2.26, had held hitters to a .180 average entering Thursday.
Kris Bryant doubled with one out in the 10th against Sean Doolittle (3-3) and moved to third on ex-National Daniel Murphy's infield single. Baez bunted just to the right of first baseman Ryan Zimmerman to score Bryant, who did not anticipate Baez's choice.
"No, which is probably why it worked," Bryant said. "Zimmerman probably wasn't expecting it either. I didn't know if he was going to catch it or not. Thankfully, he didn't because I probably was too far off the bag. We needed something to fall our way and that was certainly the play that did."
Also caught off-guard was Doolittle, who pitched a scoreless ninth before returning for the 10th.
"If you had told me that I was going to get beat by Javy in extra innings, I would not have thought it would be on a bunt," Doolittle said. "But that's what makes him dangerous is he can beat you a number of different ways. And he put it just out of the reach of Zim. I saw it go up off his bat and I thought we had a chance to catch it, but it was just far enough over."
Randy Rosario worked a perfect 10th for his first career save.
The game was a makeup of Sunday's rainout. Washington returned home between stops in Philadelphia and Atlanta, while Chicago wedged the game in between a pair of three-game series at home. Thursday was the last remaining mutual off day for the teams, and the Cubs arrived at their hotel rooms around 4 a.m. - 12 hours before the first pitch. First baseman Anthony Rizzo boarded the flight to Washington in full uniform.
Washington took the lead on Spencer Kieboom's solo homer in the third. However, the Cubs got to Nationals starter Joe Ross in the fourth, with Baez delivering an RBI double and then scoring a batter later on Victor Caratini's single. The Nationals tied it on Victor Robles' sacrifice fly in the fifth.
Baez's opposite-field homer into the Nationals' bullpen in the sixth gave Chicago a 3-2 lead. An inning later, Trea Turner capped an 11-pitch plate appearance with an RBI double to score Robles.
Ross faced major league hitters for the second time since undergoing Tommy John surgery in July 2017, allowing two runs, four hits and two walks in five innings. Rain wiped out his first start in the second inning last Friday.
Mike Montgomery allowed two runs on three hits in four innings for the Cubs, who used eight relievers.
TRAINER'S ROOM
Cubs: OF Kyle Schwarber and the team's starting pitchers remained in Chicago during the trip to Washington.
UP NEXT
Cubs: Chicago heads back to Wrigley Field to open a three-game series against Cincinnati as LHP Cole Hamels (9-9, 3.71 ERA) gets the ball. Hamels is 4-0 with a 1.42 ERA since his acquisition from Texas.
Nationals: RHP Max Scherzer (17-6, 2.31) starts the opener of a three-game series at Atlanta. The three-time Cy Young winner is 2-1 with a 1.67 ERA and 30 strikeouts in 27 innings this season against the Braves.
___
More AP MLB: https://apnews.com/tag/MLB and https://twitter.com/AP_Sports