Bartolo ties record with 245th win as Rangers beat White Sox 13-4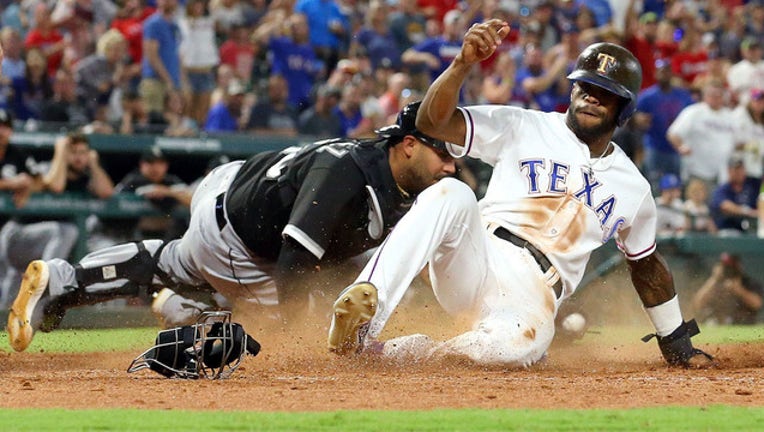 article
ARLINGTON, Texas (AP) - Bartolo Colon has long had two milestones on his mind. Now he has both of them in hand.
The 45-year-old right-hander overcame a sluggish start to earn his 245th major league win and match Dennis Martinez for the most by a pitcher from Latin America when the Texas Rangers beat the Chicago White Sox 13-4 on Saturday night.
Colon already had the most wins by a pitcher born in the Dominican Republic, having surpassed Hall of Famer Juan Marichal for that distinction with his 244th victory at Kansas City on June 18, six days before a loss at Minnesota. Colon won again Saturday in his first home start since June 6 to tie Martinez, who is from Nicaragua.
Asked if he was able to put all his achievements in perspective, Colon made it clear there were two that were especially important to him.
"Not every milestone," he said through a translator. "Marichal and Dennis Martinez, and I got those."
The night was done for Colon (5-5) after Matt Davidson led off the sixth with a homer to center field that pulled the White Sox to 5-3. Four relievers closed it out for Texas.
"We want to be able, if he's got an opportunity, to put the W behind his name to make sure he gets this," manager Jeff Banister said. "Obviously we want to win every game we possibly can, but a situation like this for him, and the overall history and his impact on the game, and impact on himself, and just what it means for the game of baseball."
Joey Gallo and Ryan Rua homered for the Rangers, who won for the 11th time in 13 games and clinched their fifth consecutive series. Robinson Chirinos hit a three-run double in the fourth inning that put Texas ahead to stay.
White Sox lefty Carlos Rodon (1-3) allowed five runs in 5 1/3 innings.
Shin-Soo Choo, who has a major league-best on-base streak of 41 games, didn't play for Texas because of right quad soreness. Choo said he has dealt with the issue for at least 10 days and it really bothered him recently.
Chicago's first two batters got hits, though neither scored. Colon then threw 42 of his 79 pitches in the second inning, when he gave up three hits and his only two walks while the White Sox took a 2-0 lead.
"He's kind of my half-hero," Chicago manager Rick Renteria said. "I told (pitching coach Don Cooper), look at that guy. He's still out there getting after it. Good for him. ... Even though he gave up a couple runs early, he just kept pitching. No panic, no concern, just keep throwing strikes and let me see what happens."
Affectionately nicknamed Big Sexy, the portly Colon retired 10 of 11 batters before Davidson went deep. Colon even got over to cover first base in time to get speedy Leury Garcia, who dove headfirst as the pitcher took a toss from Gallo to start the third. Colon had a grin on his face walking back to the mound.
"I thought that if I didn't get the guy out, I was going out," Colon said. "So thanks that happened that he was out, so I could continue the game."
SHORT HOPS
Three White Sox pitchers combined to throw 65 pitches in the eighth inning, when the Rangers scored seven times. The big hits were a two-run triple by Elvis Andrus and a two-run double by Jurickson Profar. ... Adrian Beltre had two hits, increasing his career total to 3,107 - the most among active players and three shy of Dave Winfield for 20th all-time.
TRAINER'S ROOM
White Sox: 3B Yolmer Sanchez was back in the lineup after missing the series opener with a bruised left quad sustained when he collided with Minnesota 1B Logan Morrison on Thursday.
Rangers: Choo doesn't think his quad issue is serious, but said he didn't want to make anything worse. "I know I have the streak going on, but my body and staying healthy is more important," he said. ... LHP Martin Perez (right elbow) allowed two singles in six scoreless innings in his second rehab start, throwing 73 pitches for Double-A Frisco.
UP NEXT
Rangers left-hander Cole Hamels (4-6, 3.61 ERA), one of the top starters potentially available before the July 31 trade deadline, pitches the series finale. Hamels has a 3.28 ERA over his last nine starts. He is 2-0 with a 2.86 ERA in four career starts against the White Sox.