Bears beat Ravens 27-24 in OT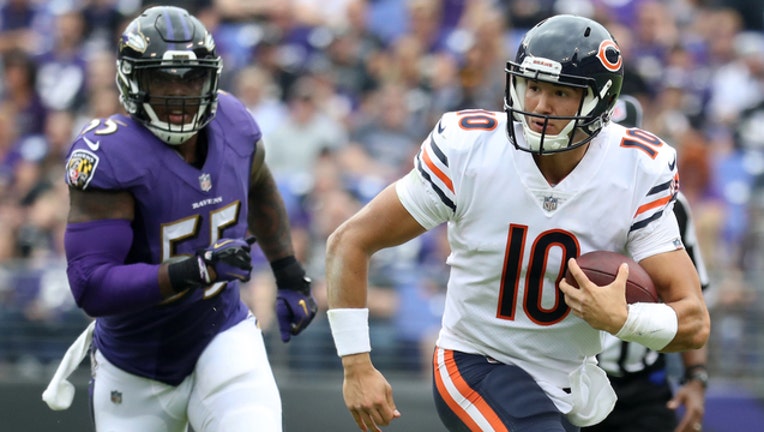 article
BALTIMORE (AP) - There may come a time this season when the Chicago Bears will have to rely upon the passing of Mitchell Trubisky to win.
Until then, coach John Fox is quite content to ride Jordan Howard and the running game for as long as necessary.
The Bears (2-4) ripped apart the Baltimore Ravens defense for 231 yards rushing Sunday in a 27-24 overtime victory. The Ravens had never given up that many yards on the ground, and their performance was even more embarrassing because they pretty much anticipated the Bears' plan of attack.
"We knew they were going come out running the ball, and they did - effectively," linebacker Matthew Judon said.
With Trubisky making his first NFL road start, Fox opted to keep the pressure off the rookie by relying on the running game.
Good move. Howard ran for 167 yards, Tarik Cohen added 32 and even Trubisky had 32 yards on the ground.
"Whatever it takes to win," Fox said. "This week, we needed to run - and we did."
Baltimore (3-3) wasted two long kick returns and an impressive comeback from a 14-point deficit.
Some things we learned about the Bears and Ravens:
HAPPY RETURNS: The Ravens wouldn't have been even close were it not for a 96-yard kickoff return by Bobby Rainey and a 77-yard punt return by Michael Campanaro.
"We knew we were capable of those types of plays on special teams," Baltimore linebacker Terrell Suggs said. "They gave us a chance, and we fought all the way back. It's just disappointing to lose the way that we did."
BATTLING BACK: Bears safety Adrian Amos had a very satisfying 90-yard interception return for a touchdown in the fourth quarter.
Earlier this season, Amos lost his starting position. But when Quintin Demps broke his arm last month, Amos was back in the starting lineup. So far, Amos has seized the new opportunity.
"I don't really look at it as a demotion," Fox said. "At the time, there was a guy playing better than him. And at this time, he's playing the best in the group."
NO PLAYMAKERS: After Breshad Perriman left the game in the second quarter with a concussion, Baltimore lost a chance for one of its few offensive playmakers to help win it.
The Ravens started without receiver Jeremy Maclin, who was inactive with a shoulder injury. After Perriman went out, the only big-play receiver Baltimore had left was Mike Wallace, who finished with three catches for 30 yards.
"We just got to get the playmakers the ball and let them make plays," Wallace said. "For one reason or another we're just not making enough plays."
WEAKENED BY INJURIES: No coach likes to give up two special teams touchdowns, much less long kickoff and punt returns in the second half that help force overtime.
But Fox said the absence of special teams captain Sherrick McManus, who left with a hamstring injury, was a factor. Fox also stressed that other changes on the depth chart because of injuries were factors in the returns.
"We had a couple of guys in there that hadn't done it a lot," Fox said.
TRICK PLAY: When Cohen hit Zach Miller for a 21-yard touchdown with a halfback pass in the second quarter, it wasn't anything new for the rookie from North Carolina A&T. He is the first Bears rookie running back to throw a touchdown pass since Hall of Famer Gale Sayers in 1965.
"I think I had (two) throwing touchdowns in college, so I've been throwing it," Cohen said.
In college, Cohen attempted four passes, two for scores.
He maintained that kind of accuracy with his first NFL pass against the Ravens.