Bears' Khalil Mack practices but questionable for Patriots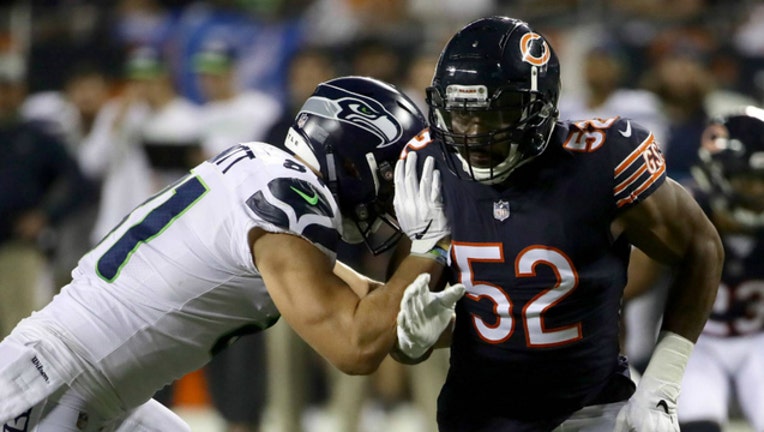 LAKE FOREST, Ill. (AP) - Bears linebacker Khalil Mack must wait until just before game time to learn if he gets a chance to rush New England Patriots quarterback Tom Brady at Soldier Field.
Mack played through an ankle injury in Chicago's last game, a 31-28 loss to Miami. On Friday, he practiced for the first time this week, although on a limited basis. Bears coach Matt Nagy says he thought Mack "moved around pretty good."
Mack is listed as questionable for Sunday. Nagy says team medical personnel will monitor how he bounces back from Friday's practice.
Mack has played in 70 straight games and has never missed a start.
"That's just who he is," the coach said.
Ultimately, the decision will depend on Mack and the medical evaluations.
"When we get to the time when we've got to make a decision, then we'll go with what we feel is best for him and best for the team," Nagy said.
Mack has five sacks, and last week was held without a sack for the first time this season. He didn't comment Friday on his injury, but wants to see the Bears defense bounce back from its worst game of the year when they face the Patriots.
"They're very explosive," Mack said. "They've got weapons over the top. They've got some good backs. And so it's going to be a challenge."
Mack called last week's overtime loss and 31 points allowed "difficult to handle."
Wide receiver Allen Robinson II practiced Friday on a limited basis after missing Thursday's practice because of a groin injury. He is questionable.
Cornerback Bryce Callahan is also questionable after missing Friday's practice because of an ankle injury from Thursday's practice. Cornerback Marcus Cooper (hamstring) is doubtful. Cornerback Prince Amukamara (hamstring) and guard Eric Kush (neck) were removed from the injury list and are expected to play.
___
More AP NFL: https://apnews.com/tag/NFL and https://twitter.com/AP_NFL