Bears mull over quarterback change during weekend away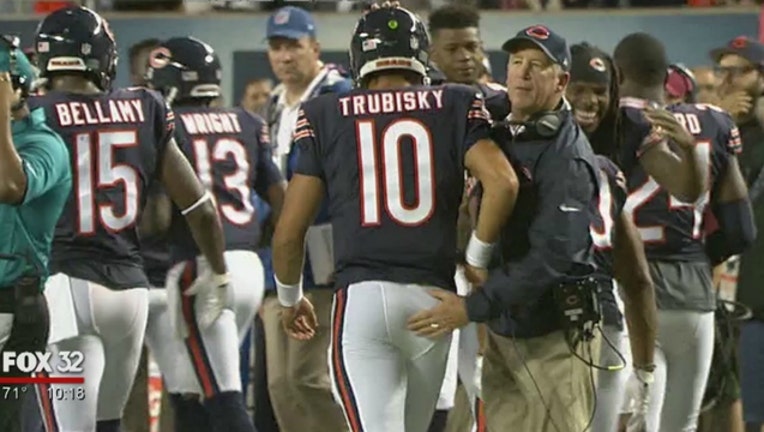 article
LAKE FOREST, Ill. (AP) - If there is a change coming at starting quarterback for the Chicago Bears, it will be after a weekend away from football.
A day after Thursday's 35-14 loss to the Green Bay Packers, coach John Fox called it too early to make announcements on removing starting quarterback Mike Glennon in favor of rookie Mitchell Trubisky or veteran Mark Sanchez.
"I think, as I've referenced, the quarterback gets a lot more credit and a lot more blame than they deserve," Fox said. "We're looking at everything and we're not in a big rush to do anything about it because we don't have a game until next Monday night."
The Bears (1-3) resume play at Soldier Field on Oct. 9 against the Minnesota Vikings.
Glennon has a passer rating of 76.9 and is 93 for 140 for 833 yards with four touchdowns along with five interceptions and three lost fumbles. He threw two interceptions against the Packers, lost a fumble on a sack and had another snap ricochet off his knee for a lost fumble.
"I don't single out one position," Fox said. "I know there are a lot of people out there that enjoy that. There's 11 critical positions and we've got to do a lot of work on all 11 of them."
Trubisky was drafted second overall and has yet to see action through four games. Fox called him a "young player" after the game and on Friday said it's difficult to say if he is ready to play.
"Until that happens, you don't really know," Fox said. "I don't think you know and I don't even know."
Glennon indicated no concern about losing his job on Thursday night after the game.
"That's not my focus," Glennon said. "I'm going to watch this film, learn from my mistakes and look forward to improving myself as a player."
Glennon called improvement his focus in practice next week rather than maintaining a job.
"The No. 1 thing we obviously have to fix are the turnovers," Glennon said. "I'm not giving our team a chance when you turn the ball over like that."
Sanchez has been the No. 3 quarterback for the first four games. It's also possible he could be moved up to backup so a more experienced player would be available to replace Glennon if he struggles.
"I don't want to close or open any possibilities," Fox said.
Tight end Zach Miller said eliminating turnovers could go a long way toward reversing the Bears' fortunes, regardless of who the quarterback is.
"It's understandable, but we've been in positions to win games with Mike and then we've had two games in which we just didn't take care of the football," Miller said. "If we take care of the football, really, I don't think that (quarterback) situation's being brought up, know what I mean?"
___
Online:
AP NFL website: www.pro32.ap.org and www.twitter.com/AP_NFL