Bears take the week off just when they're gaining momentum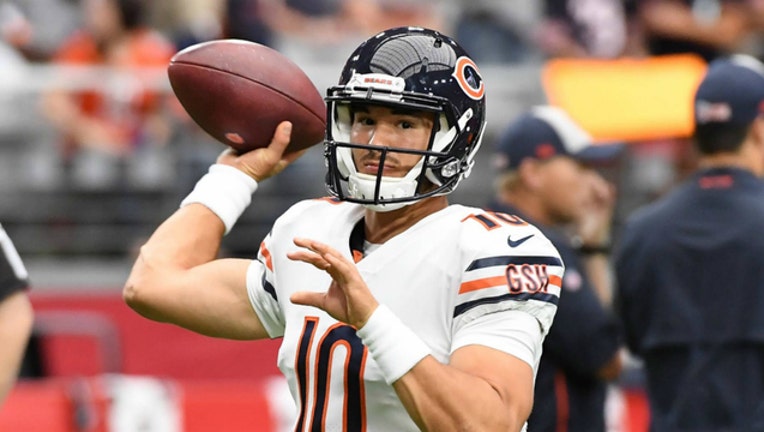 article
LAKE FOREST, Ill. (AP) - The way Chicago Bears tight end Trey Burton figured it, no one wants to stop when he's having fun.
Burton looked ahead to this week's bye for the Bears following a 48-10 victory over Tampa Bay and saw a potential trap for a team with momentum, although coach Matt Nagy anticipates otherwise.
"It is the worst possible time to have a bye week," said Burton, who won a Super Bowl last season with the Eagles. "Two years ago in Philly, we were 3-1 going into the bye, beating teams up, and lost seven out of nine off the bye week.
"We have a lot of veteran guys who understand the importance of starting fast when we come back. I wish we didn't have a bye week right now."
The Bears play again Oct. 14 at Miami, but Nagy is giving his team off the full bye week instead of holding a practice or two, as had been the procedure in Chicago in the past.
Nagy on Monday said the decision has nothing to do with Sunday's easy victory.
"This is what we were going to do from the start," Nagy said. "It's something that I've taken with me from what we've done in the past in Philadelphia and in Kansas City."
Nagy coached under Andy Reid with both the Eagles and Chiefs. Reid has a 16-3 record after bye weeks in the regular season.
"Coach Reid has had a hell of a record coming after bye weeks," Nagy said. "It doesn't mean that you win every time coming off of the bye, but there is a method to the madness. And I think the biggest thing with this is that it's OK, you want to give your coaches and your players a breather and you have enough trust in them to understand that they're professionals."
The Bears have injury issues to address and a break could work wonders. They lost backup linebacker Sam Acho for the season on Sunday with a torn pectoral muscle. Cornerbacks Prince Amukamara and Marcus Cooper are recovering from hamstring injuries.
There's also the possibility they could lose defensive end Akiem Hicks to a suspension for bumping an official and being ejected against Tampa Bay.
Little else is trending downward after Mitchell Trubisky turned in a passing effort Sunday unequaled by anyone with the franchise since Johnny Lujack threw for six touchdown passes against the Chicago Cardinals in 1949.
A week ago Nagy hinted he might scale back parts of the offense to make it easier on Trubisky, who struggled the first three games. But Trubisky threw for six TDs, 354 yards and had a passer rating of 154.6.
Nagy said he actually did little to change the attack beyond going more downfield and "having fun."
"We didn't lessen it, I can tell you that," Nagy said. "For where we're at right now in this offense, we feel like we found a good balance for him."
Maybe it was the sleeve.
Trubisky wore a sleeve covering his elbow and a good portion of his right arm, which was new. It even surprised Nagy.
"I saw that, too," Nagy said. "He never told me. But he'll probably be wearing it in Miami."
One big change in the offense was getting Tarik Cohen more involved in the passing game. The second-year running back had a career-best 121 yards receiving on seven catches with a touchdown.
Cohen often is compared to Kansas City's Tyreek Hill.
"They're different players," Nagy said. "Tyreek is exclusively in Kansas City a wide receiver," Nagy said. "There were times, and there are times, when coach Reid will put him in the backfield and run the ball.
"The one difference with Cohen is that he can do both. He is a threat to run the ball between the tackles when he's in the backfield. But if you move him out and put him in the slot at wide receiver, he's shown to do that as well."
With a week to ponder their first 3-1 start since 2013, Nagy fully anticipates players returning from rest at a high level, although he understood why Burton had concerns about the break.
"It's similar to what you see sometimes in the playoffs when a team gets on a roll and things are going well, and then all of a sudden now they have a bye, and they get that bye and they come back the following week in the playoffs and then they're just not the same," Nagy said.
The Bears have been practicing since July 19 because they had to play in the Hall of Fame game. So Nagy figures the break is exactly what they need.
"Me personally, I'm OK with where this fits. We've prepared for it," he said.
___
For more NFL coverage: www.pro32.ap.org and http://twitter.com/AP_NFL