Bears, Vikings meet in primetime showdown for NFC North lead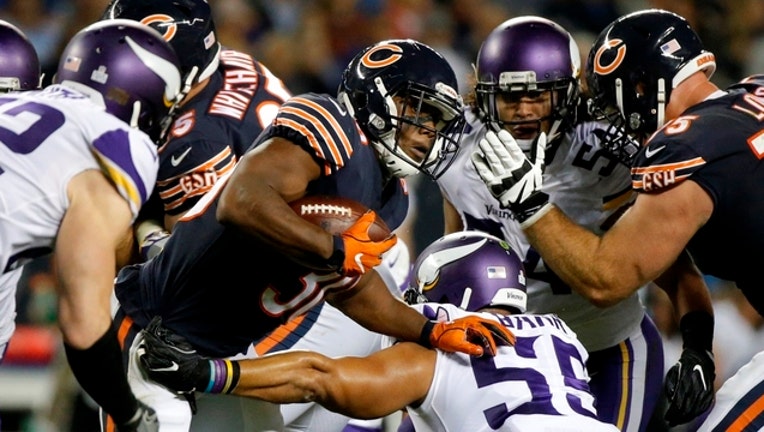 article
LAKE FOREST, Ill. (AP) - Mitchell Trubisky understands how high the stakes are.
The Chicago Bears have a chance to tighten their grip on the NFC North lead and demonstrate just how far they have come when they host the defending division champion Minnesota Vikings in a prime-time showdown for first place Sunday night.
"It's a huge opportunity to show the world what we're about and make a statement in our division," Trubisky said.
It has been a long time since the Bears (6-3) have been in a spot like this.
They endured four straight last-place finishes before a resurgence this year brought on by an offseason overhaul and the progress of Trubisky, their prized quarterback, in his second season.
They're in sole possession of the division lead for the first time since 2013. They've won three in a row for the second time this season after beating Detroit last week to snap a 10-game skid against division opponents.
And a victory over Minnesota (5-3-1) would give the Bears their longest win streak since a six-game run in 2012. But the Vikings are also on a roll, having won four of five.
Both teams boast top-five defenses. Chicago leads the NFL with 16 interceptions and ranks second in takeaways with 24.
Points could be hard to come by for both teams.
"TV-wise, it's probably boring, you know?" Vikings defensive tackle Sheldon Richardson said. "Guys don't want to sit there and watch an 8-7 game, but those games are fun for us. They might not be fun for the offense, but they're still fun for us."
Some things to know before the Vikings-Bears showdown:
EYES OPEN
Chicago coach Matt Nagy's scheme uses a lot of pre-snap motions by running backs and wide receivers designed to confuse the defense. But the Vikings have faced plenty of that in previous games against the Rams and Eagles.
"Still got to hike the ball," Richardson said. "It don't mess with us too much. Don't get caught up in the eye candy. That's it. Read your keys. They'll tell you where they're going."
Of course, whatever Nagy has shown over the first nine games is just a snapshot of what's in that complex playbook.
"There's no doubt in my mind we're going to get new plays," Zimmer said, adding: "Every week you're going to get new plays, you're going to get new formations, you're going to get new personnel groups. That's part of the NFL."
FOR KICKS
Chances are, Bears kicker Cody Parkey will never have another week like this.
Hitting uprights four times while missing two extra points and two field goals against Detroit was just the start.
Jimmy Fallon poked fun at him on "The Tonight Show," saying: "In his defense, that's actually way harder to do. That's pretty awesome. Then after the game, it took him four tries to get through the locker room door."
Several Chicago TV stations sent helicopters to shoot footage when he practiced at Soldier Field on Wednesday night.
Parkey is 13 of 18 on field goals after signing with Chicago in March. At 72.2 percent, that's below the 86.4 rate he had in his first four seasons with Philadelphia, Cleveland and Miami.
SETTLING IN
Trubisky debuted against Minnesota in Week 5 last season in a loss at home. He's looking a little more comfortable these days.
Trubisky tied a franchise record last week with his fourth 300-yard passing game, throwing for a career-best 355 yards and three touchdowns. He went 23 for 30 and had a 148.6 rating.
In last year's game at Soldier Field, he was 12 of 25 with 128 yards. He wasn't great, either, in the finale at Minnesota, going 20 of 36 for 178 yards.
PRIME TIMERS
This is one of two games on the NFL's Sunday night showcase over the next four weeks for each team.
The Bears had their game against the Rams flexed to Sunday night on Dec. 9, just like this game against the Vikings was. The Vikings host the Packers on Nov. 25 on Sunday night. They also have a Monday night game at Seattle on Dec. 10.
SWEET HOME
Cousins grew up in the northwest Chicago suburb of Barrington, and his allegiance to the Bears held strong well after his family moved to Michigan at age 13. Walter Payton's children attended the same grade school as Cousins. His youth football coach knew Mike Singletary. His father, a pastor, held some team chapels for the Bears. Though Cousins was born more than two years after the Bears won Super Bowl 20, he was well aware of the legend of that star-studded team.
Cousins has played at Chicago twice, in 2015 and 2016 with Washington, but it's still a special trip, one of those games during the season "where you pinch yourself a little bit to realize you're living a dream playing at Soldier Field on Sunday night football."
___
More AP NFL: https://apnews.com/NFL and https://twitter.com/AP_NFL