Blackhawks prepare for playoffs after loss to Columbus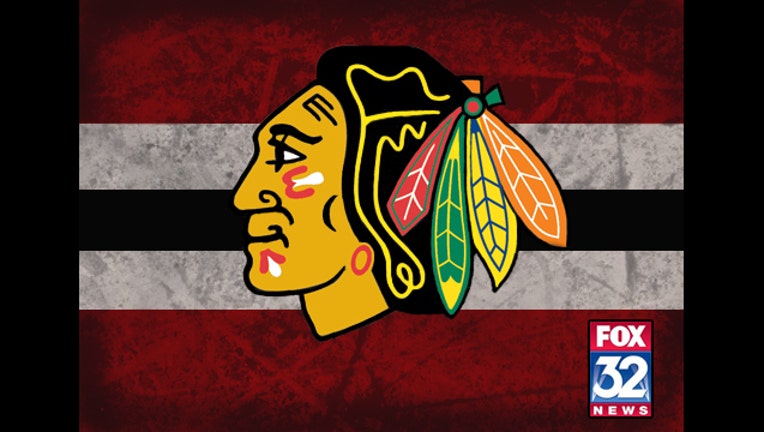 article
COLUMBUS, Ohio (AP) — The Chicago Blackhawks quickly shook off a tough loss at Columbus and turned their focus to the playoffs.
Next up is the St. Louis Blues.
Corey Crawford made 20 saves in his return from an upper-body injury, but the depleted Blackhawks lost 5-4 to the Blue Jackets when Scott Hartnell scored a power-play goal at 2:28 of overtime Saturday night.
Chicago is going for its second straight Stanley Cup title and fourth championship in the last seven seasons. It went 2-0-3 against the Blues this season, including a 2-1 overtime loss on Thursday night.
"I expect a hard, hard series," Blackhawks coach Joel Quenneville said. "We know that we are going to have our hands full. They are as good as any team in the league."
Hartnell finished with two goals and two assists as Columbus (34-40-8) closed its season with four wins in five games. Alexander Wennberg had a goal and two assists for the Blue Jackets, and Brandon Saad added a goal and an assist against his former team.
The Blackhawks (47-26-9) were without forwards Artem Anisimov, Marian Hossa and Andrew Shaw due to injuries, and defenseman Duncan Keith was shelved by a suspension that runs through the first game of the playoffs. Captain Jonathan Toews and defenseman Niklas Hjalmarsson were held out for rest ahead of the postseason.
Quenneville said he expects each of the injured players to be ready for Game 1 against the Blues.
Patrick Kane and rookie Artemi Panarin each had two goals and an assist for the Blackhawks, who finished the regular season with a pair of overtime losses. It was Crawford's first game since March 14.
"It's good to get into a game and sort of see certain situations," Crawford said. "Get a feel for it going into the playoffs."
Kane finished the season with a career-high 46 goals and 60 assists. He is poised to become the first American-born player to lead the NHL in scoring.
"It's one of those things that I'll look back on and really enjoy," said Kane, also one of the front-runners for league MVP. "I take pride in playing for the U.S. and being an American kid. It was fun to break the points streak this year and now to be the first American to win the scoring title is pretty special."
Hartnell picked up his 23rd goal when Cam Atkinson's shot went off him and past Crawford in overtime. A big celebration followed, but it was a mostly disappointing campaign for a Blue Jackets team that failed to qualify for the postseason for the 13th time in its 15-year existence.
A season that many thought would take the franchise to new heights never got anywhere, crushed under the weight of an opening eight-game slide. Coach Todd Richards was fired and replaced by John Tortorella.
The Blue Jackets started slow in this one and the Blackhawks jumped all over them. Panarin set up Kane just nine seconds into game, and then scored two of his own to stake Chicago to a 3-0 lead in the first.
"I didn't need to say anything to the team, they knew where we stood after the first period," Tortorella said. "I thought they came through with a really solid game after that."
Columbus responded with three of its own in the second. Saad completed a pretty passing sequence with his 31st of the season, extending his career high and tying it at 3 with 3 minutes left.
Wennberg made it 4-3 at 3:09 of the third, one-timing a short feed from Hartnell behind the net. Kane tied it again at 9:49 with a hard one-timer from the slot.
With 2:18 left, the Blackhawks had a two-man advantage for 48 seconds but Sergei Bobrovsky made big saves on Kane and Panarin. He finished with 22 stops.
NOTES: Hartnell's first goal was his 300th. ... Atkinson played his 300th career game. ... Blackhawks D Viktor Svedberg left with a lower-body injury but Quenneville said he is fine. ... It was the third time in franchise history that Columbus overcame a three-goal deficit to win. ... Panarin is the fourth rookie in franchise history to score 30 or more goals in a season.