Blackhawks reacquire defenseman Oduya in trade with Stars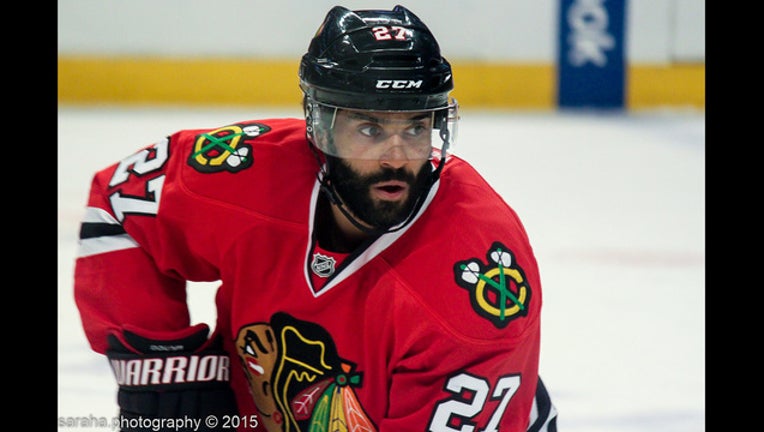 DALLAS (AP) - The Chicago Blackhawks are reuniting with veteran defenseman Johnny Oduya, who was part of their last two Stanley Cup championships.
Oduya was traded by the Dallas Stars to the Blackhawks on Tuesday night in exchange for young forward Mark McNeill and a conditional fourth-round pick in the 2018 NHL draft.
After the Blackhawks won their Stanley Cup title in 2015, Oduya left in free agency for a $7.5 million, two-year contract with Dallas. Oduya will be an unrestricted free agent again after this season.
"With the situation of our team, I think it's important for us to get the most assets we can," Stars general manager Jim Nill said. "Johnny's been a great warrior for us. ... It gives him an opportunity to go to Chicago. They're in the playoffs and for us, it gave us some assets for down the road."
Chicago also on Tuesday placed defenseman Niklas Hjalmarsson on injured reserve, retroactive to last Thursday.
The struggling Stars, who were the No. 1 seed in the Western Conference last season, are still seven points out of a playoff spot with 19 games remaining this season. That was even after a 3-2 win at home Tuesday night against the defending Stanley Cup champion Pittsburgh Penguins.
The Blackhawks, second in the Western Conference, host the Penguins on Wednesday night.
It was the third deal by Nill leading up to Wednesday's trade deadline. The Stars had already sent defenseman Jordie Benn, the older brother of team captain Jamie Benn, to Montreal on Monday; after trading forward Patrick Eaves to Anaheim last Friday.
If Chicago advances to the third round of the playoffs this season, and the 35-year-old Oduya plays in at least half of the games in the first two rounds, the Stars would then get the third-round pick instead of the fourth-round pick in 2018. Dallas also retains half of Oduya's remaining contract.
Oduya first played for Chicago from 2012-15, with nine goals and 34 assists in 219 games. He had five goals and 18 assists in 71 playoff games with the Blackhawks, including their Stanley Cup championships in 2013 and 2015.
A native of Stockholm, Sweden, Oduya has played 783 career NHL games with New Jersey (2006-10), Atlanta/Winnipeg (2010-12), Chicago and Dallas.
Oduya returned Sunday to play against Boston, his first game in more than a month because of an ankle injury. Nill said that extended absence didn't keep other teams from having interest in Oduya, who had one goal and six assists in 37 games this season with the Stars.
"We had all the medical records and he's healthy now. He would have played tonight if he wasn't getting traded, so that wasn't an issue," Nill said. "Teams have been talking to me for quite a while. Even when he was injured, they wanted to know when he was coming back."
McNeill had six goals and 22 assists in 58 games for Rockford in the AHL. He has played in only one NHL game, for the Blackhawks on Jan. 26, 2016, at Carolina. The 24-year-old forward will report to Texas, the Stars' top development affiliate in the AHL.