Bote homers as Cubs beat Reds 3-2 in 10 innings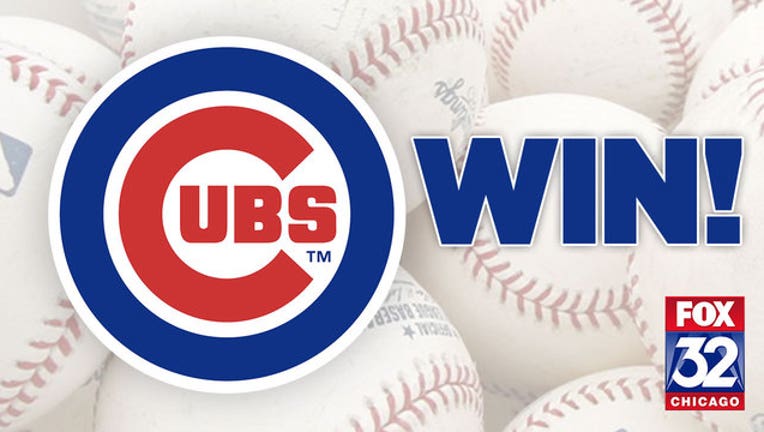 CHICAGO (AP) - While David Bote is learning about the major leagues, baseball is learning about the rookie, too.
Like be really, really careful when he steps to the plate in a big spot.
Bote struck again on Friday, connecting in the 10th inning for another game-ending home run that sent the Chicago Cubs over the Cincinnati Reds 3-2 for their third straight victory.
The 25-year-old Bote, an 18th-round pick in the 2012 draft, got behind 0-2 before driving Raisel Iglesias' next pitch deep to left field with one out. He flipped his batting helmet off as he approached his smiling teammates and tried unsuccessfully to sidestep a water-cooler shower before stepping on home plate.
"I don't know what was in that Gatorade bath. It smelled horrible," a laughing Bote said. "But I mean it feels great, so it's fun."
Bote created quite a splash earlier this month, hitting a bottom-of-the-ninth, two-out grand slam on a Sunday night that beat Washington 4-3 on Aug. 12. Each of his five career homers has either tied the game or put the Cubs in front.
"Just hunting spots on pitches and I was able to get a barrel on it," he said.
Iglesias (2-2) had made seven straight scoreless appearances. Jesse Chavez (4-2), the sixth Cubs reliever, pitched a scoreless inning for the win.
"That was an extremely well-played game, well-pitched game," Reds manager Jim Riggleman said.
Daniel Murphy homered in the eighth for NL Central-leading Chicago, and Javier Baez had a run-scoring single in the sixth. Alec Mills pitched 5 2/3 innings of one-run ball in his first major league start.
Last-place Cincinnati wasted a solid performance by Matt Harvey in its fourth loss in five games. Harvey struck out six in 5 1/3 innings after he was reportedly claimed off waivers by the contending Brewers, only remaining with the Reds when they couldn't work out a deal.
"I didn't know what to expect," Harvey said. "There were some nerves, I guess, some different feelings coming through this morning. ... I'm glad I'm still staying here the rest of the season."
Harvey is 6-5 with a 4.14 ERA in 18 starts after he was acquired in a trade with the New York Mets, salvaging his season after a rough start. But he is eligible for free agency this winter and isn't expected to stay with the Reds.
"He's really good. If you want something good, you have to give up something, you know?" Riggleman said. "Obviously, nobody wanted to give up enough. In their eyes, they probably felt it was enough. We certainly didn't think it was enough."
Bote and Albert Almora Jr. struck out swinging before Murphy drove the next pitch from Jared Hughes over the wall in right for his first homer since he was acquired in a trade with Washington on Tuesday.
The crowd of 37,760 roared as Murphy rounded the bases, and the veteran second baseman acknowledged the cheers by popping out of the dugout for a curtain call.
But Cincinnati responded with Eugenio Suarez's leadoff drive on a 2-2 pitch from Pedro Strop in the ninth, tying it at 2. It was Suarez's 29th homer, extending his career high, and just the second blown save for Strop since closer Brandon Morrow was placed on the disabled list last month.
NOT QUITE THERE
Cincinnati jumped in front on consecutive doubles by Mason Williams and Phillip Ervin leading off the second. It looked as if Williams had connected for his second homer, but a replay review showed the ball caromed off the front of a post holding up the basket in left-center.
Williams had to go back to second, but he scored anyway when Ervin followed with a liner into the gap in left-center.
HMMMMM
Mills struck out eight while filling in for Mike Montgomery, who is on the disabled list with left shoulder inflammation. Montgomery threw a bullpen session before the win and is scheduled for another one on Sunday.
"We'll wait 'til Sunday to figure out what we want to do next," manager Joe Maddon said. "But Alec really permitted us to think different thoughts."
Reliever Dillon Maples was optioned to Triple-A Iowa to make room for Mills on the roster.
TRAINER'S ROOM
Reds: 1B Joey Votto (lower right leg) was scheduled for more work on Friday and Saturday. He could come off the disabled list on Sunday. "I'm getting more and more encouragement from him and the trainers," Riggleman said.
Cubs: OF Jason Heyward rested for the second straight day. Maddon said his left ankle has been bothering him. ... 3B Kris Bryant (left shoulder inflammation) hit in the cage. "He felt really good about what he did," Maddon said. ... Morrow (right biceps inflammation) had an MRI on Thursday. "Everything's fine," Maddon said. "He's still in his process of getting back."
UP NEXT
Reds right-hander Luis Castillo (7-10, 4.86 ERA) and Cubs left-hander Jose Quintana (10-9, 4.36 ERA) pitch on Saturday. Castillo is coming off a solid start against San Francisco, striking out nine in 6 2/3 innings in an 11-4 victory on Sunday. Quintana is winless in his last three starts, but he pitched four-hit ball into the sixth inning in a no-decision at Pittsburgh in his previous outing.
___
Jay Cohen can be reached at http://www.twitter.com/jcohenap
___
More AP MLB: https://apnews.com/tag/MLB and https://twitter.com/AP_Sports