Bote's grand slam in 9th lifts Cubs over Nationals 4-3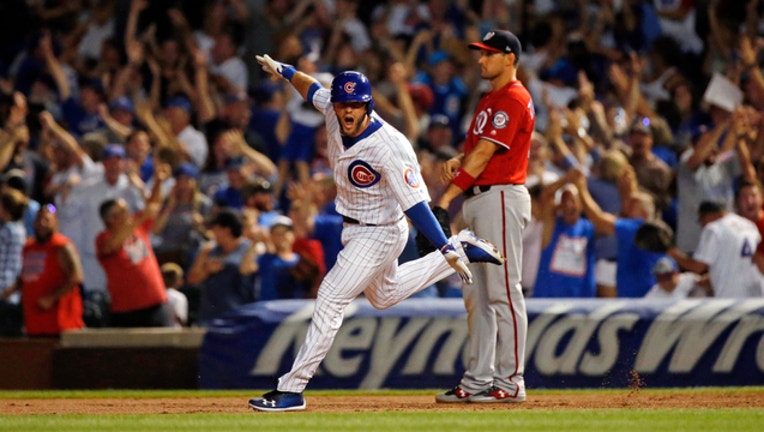 article
CHICAGO (AP) - The celebration was under way by the time David Bote flung his helmet high into the air on his way home.
Teammates were already jumping up and down, ready to mob him at the plate. The fans were in a frenzy, too.
Nothing like a game-ending grand slam to get the festivities started.
A pinch-hitting Bote smashed one against Ryan Madson with two outs in the ninth inning to lift the Chicago Cubs to a 4-3 victory over the Washington Nationals on Sunday night.
Bote's long drive to center field came after dominant starts by Washington's Max Scherzer and Chicago's Cole Hamels.
Madson (2-5) entered with a 3-0 lead to start the ninth and quickly ran into trouble.
He gave up an infield single to Jason Heyward with one out and hit Albert Almora with a pitch. Madson then retired Kyle Schwarber on a foul pop before hitting Contreras to load the bases.
With a 2-2 count, Bote drove a knee-high fastball well beyond the center-field wall, setting off quite a scene.
Teammates ripped off his jersey at the plate. He also had a cooler emptied on him as he gave an interview on the field while fans chanted "Bote! Bote!"
"It's magical," he said. "It's incredible. It's an unbelievable feeling. It couldn't happen to a better team, a better group of people in that clubhouse. And I'm so blessed and honored to be part of it."
There was more after he finished his postgame interview with reporters. As he walked back into the clubhouse, he got a quick hug from none other than noted Cubs fan Bill Murray, who asked, "Is this the hero?"
Bote has made quite an impression while bouncing back and forth between the minors as a rookie. He is batting .329 with three homers in 34 games for the Cubs, with Kris Bryant battling injuries this season.
His big slam helped Chicago take two of three in the first meeting between these teams since the Cubs beat Washington in the NL Division Series. It also made a winner of Justin Wilson (4-3), who got the final two outs in the ninth. 
Madson said a recurring back issue flared up when he was warming up, causing pain going down his right leg.
"Sometimes it will shoot, sometimes it won't," he said. "That's really the truth of the matter. Just trying to fight through it. Not everybody feels 100 percent all the time, but this one's pretty big. So I'll lose basically position, control over the ball."
Scherzer tossed three-hit ball over seven innings. The three-time Cy Young Award winner struck out 11 and walked one. 
But the Nationals managed just three hits -- one off Hamels. He gave up one run in seven innings, struck out nine and walked one in his third start since Chicago acquired him from Texas.
The only hit he allowed was Daniel Murphy's single in the second to put runners on first and third. Mark Reynolds then drove in Ryan Zimmerman with a sacrifice fly.
The Nationals did not get another hit until Trea Turner tripled against Brandon Kintzler, sparking a two-run ninth. 
A-ROD, MADDON MAKE PEACE
Cubs manager Joe Maddon and ESPN analyst Alex Rodriguez insisted they made peace over the former slugger's comments criticizing pitcher Yu Darvish last month.
Maddon said they had a "very open and candid" conversation before the game. Rodriguez also said it was "very positive." 
The two were at odds after Rodriguez accused Darvish -- sidelined since May 20 because of triceps and elbow injuries -- of causing a rift in the clubhouse by rehabbing with the team rather than at the Cubs' facility in Arizona. Maddon fired back at the time, and he made it clear again Sunday that he will protect his players.
Rodriguez, who took two questions from reporters before sprinting away, seemed to have no regrets.
"What's great about this is we all have the same interests -- to grow the game, to highlight stories as objectively as we can," he said. 
Both he and Maddon said they planned to have drinks together at some point.
TRAINER'S ROOM
Nationals: The Nationals held 3B Anthony Rendon out of the lineup for the second straight game because of a sore left wrist, though he entered in the bottom of the ninth. ... Closer Sean Doolittle (left toe inflammation) hopes to start throwing off the mound in the next day or two. He has not pitched since July 6.
Cubs: The Cubs activated RHP Anthony Bass (right mid-thoracic strain) and assigned him to Triple-A Iowa after he cleared waivers.
UP NEXT
Nationals: Washington opens a four-game series at surging St. Louis, with LHP Tommy Milone (1-1, 5.50 ERA) starting for the Nationals and RHP Miles Mikolas (12-3, 2.74) pitching for the Cardinals.
Cubs: Send LHP Jose Quintana (10-8, 4.28) to the mound when they open a two-game series against Milwaukee on Tuesday.