Bryant, Contreras homer to help Cubs rout Reds 10-4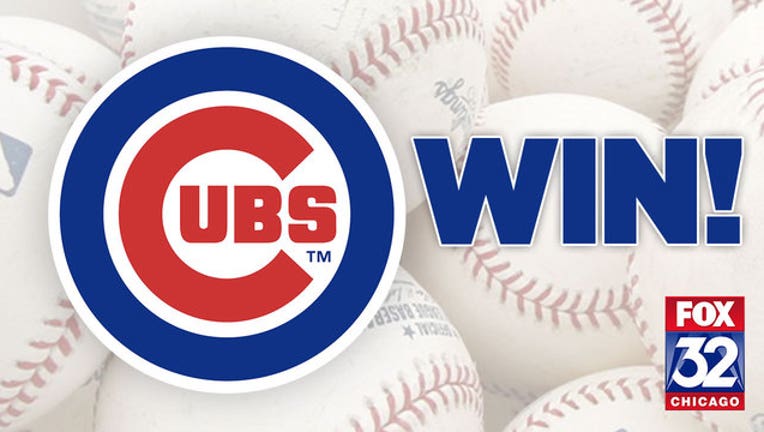 article
CHICAGO (AP) - Trounced by the team that swept them out of the NL Championship Series last fall, the Chicago Cubs got back to the business of beating their other opponents.
Kris Bryant hit his NL-best 24th home run before leaving with a bruised leg, Willson Contreras and Addison Russell also went deep, and the Cubs pounded the struggling Cincinnati Reds 10-4 on Monday.
Playing the NL Central's last-place team was just what the major league-leading Cubs needed after getting outscored 32-11 in a four-game sweep by the Mets in New York.
"The power of 24 hours," manager Joe Maddon said. "We had a tough stay in New York City."
It looked a whole lot easier against a Reds team that could challenge the franchise record of 101 losses.
Cincinnati fired pitching coach Mark Riggins in an effort to shake up a staff with the majors' worst ERA, then lost for the 11th time in 13 games.
Bryant hit a two-run drive in the second inning and scored three times before exiting with a bruised lower left leg in the fifth. He was hurt making a catch in left field in the top half when center fielder Albert Almora Jr. ran into him.
Matt Szczur batted for Bryant in the bottom half. He would have stayed in had the game been closer and should be fine for Tuesday, Maddon said.
Almora said he didn't hear Bryant calling for the ball and took responsibility for the collision.
"I came in after the game and I tried to find him," Almora said. "He's doing all right. I gave him like 15,000 hugs."
Contreras capped a three-run second with a solo drive off Cody Reed (0-3) that made it 6-0. Russell drove in three runs and scored two.
Kyle Hendricks (7-6) gave up an unearned run and four hits in 5 1/3 innings as the Cubs started a four-game homestand on a winning note after going 4-7 on their longest trip of the season.
Zack Cozart and Eugenio Suarez hit back-to-back home runs for Cincinnati in the seventh. But the Reds committed two errors and Reed struggled again on the mound.
The left-hander gave up eight runs — four earned — and five hits in four innings after getting rocked at home by the Cubs last week. He also walked three and hit two batters with pitches as his ERA remained 9.00 after four career starts.
"He's a top prospect and now he's having some struggles at this level," manager Bryan Price said. "He needs to fight his way through that and get back to what we've seen before."
GOING DEEP
The Cubs, who swept three games in Cincinnati last week, scored three runs in each of the first two innings.
Bryant's towering drive to center in the second left him two homers shy of his total last season on the way to winning the NL Rookie of the Year award. He connected after going deep six times during the 11-game trip.
Contreras' homer to left was his fifth since being called up from Triple-A on June 17.
IN ORDER
Chicago OF Jason Heyward responded with a solid day at the plate after being dropped from second to sixth in the batting order. He had a two-run double and finished with two hits.
TRAINER'S ROOM
Reds: Price said he hopes to have RHP Jumbo Diaz (sore right ankle) available on Tuesday. "The swelling's out and it's still tender to the touch," Price said before the game. "I don't really need him today."
Cubs: OF Dexter Fowler (strained right hamstring) said he is feeling better but is not sure if he will return before the All-Star break. He was eligible to come off the disabled list Monday. Manager Joe Maddon did not rule out the possibility that Fowler's first game back could be the All-Star Game.
UP NEXT
RHP John Lackey (7-4, 3.27 ERA) looks to get back to winning for Chicago, while Reds LHP Brandon Finnegan (3-7, 4.48) tries to bounce back from the shortest start of his career. Lackey is 0-2 in his past four starts, though he pitched into the seventh in a no-decision against the Mets last week. Finnegan gave up eight runs in 2 1/3 innings against Washington.