Bulls' Butler sidelined by left knee soreness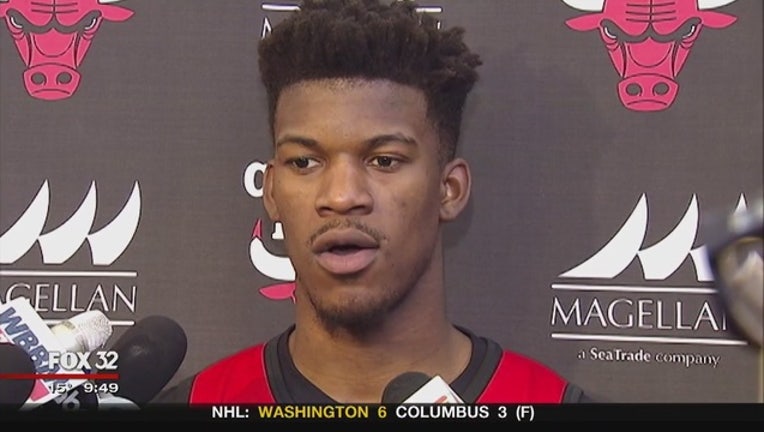 article
CHICAGO (AP) — Jimmy Butler's return from a knee injury lasted all of one game, and the Chicago Bulls aren't sure when the All-Star guard will be able to play again.
Butler missed 11 games with a strained left knee before he had 24 points, 11 rebounds and six assists in Chicago's 108-100 victory over Houston on Saturday night. But he had some stiffness in his back on Sunday and then developed some swelling in his knee on Monday, prompting the Bulls to hold him out for their matchup with Milwaukee.
"He'll meet with the team doctor tonight and we'll kind of go from there," coach Fred Hoiberg said before the game against the Bucks. "As of right now it's just too early to tell how long he'll be. He may feel much better tomorrow. You know I would imagine some type of test will happen in the next few days."
It's an ominous sign for Chicago, which is in jeopardy of missing the playoffs for the first time since it went 33-49 in the 2007-08 season. The Bulls began the day in a virtual tie with Detroit for the eighth and final playoff spot in the Eastern Conference.
Heading into the visit by Milwaukee, Chicago had lost 140 games due to injury or illness, and reserve guard Aaron Brooks left in the first half against the Bucks with right patellar tendinitis. The Bulls lost 148 games all of last season.
"Obviously, there's concern. Jimmy's a warrior, he's going to try to play through anything," Hoiberg said. "He developed swelling around that knee and he's got a lot of soreness in there. Just too early to tell exactly how long this one will be. He's optimistic he'll be back soon in talking to him, and I'll never doubt him."
The 26-year-old Butler played 34 minutes against the Rockets and is averaging 37.8 minutes in his fifth NBA season, a slight decrease from his average of 38.7 minutes in each of the past two years, but tied with Rockets star James Harden for the league lead heading into Monday's games.
The Bulls also got Nikola Mirotic back against the Rockets, but Hoiberg said he is limited to somewhere between 15 to 20 minutes against the Bucks. Mirotic missed 16 games following an appendectomy and subsequent procedure to remove a blood clot.
The 26-year-old Butler is averaging 22.4 points in 49 games this season. Chicago dropped eight of 11 games while he was out with his recent knee injury.
___
Jay Cohen can be reached at http://www.twitter.com/jcohenap